Woman, 2 daughters fatally stabbed at New York hotel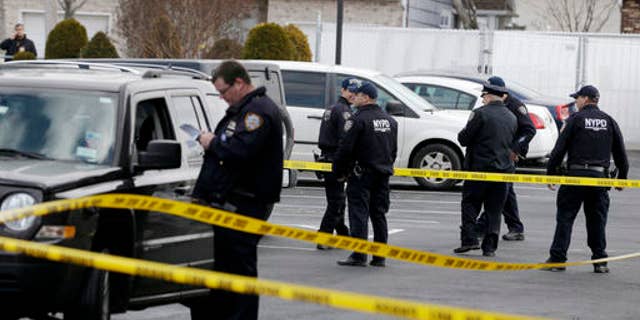 NEWYou can now listen to Fox News articles!
NEW YORK – A man repeatedly stabbed his girlfriend and all three of her children Wednesday morning at a hotel that was being used for homeless housing, killing her and two of her daughters, authorities said.
Rebecca Cutler, 28, died at a hospital along with two of her daughters, a 1-year-old and 5-month-old, following the early morning stabbing at a Ramada Inn on Staten Island, authorities said. A 2-year-old girl who was also stabbed is in critical but stable condition following emergency surgery, they said.
"This is an atrocious crime, and I think every parent would share my view that our hearts break when we see innocent children attacked," Mayor Bill de Blasio said at a news conference.
Michael Sykes, 23, the father of the 5-month-old, is wanted for questioning after he called his mother to say he had killed his girlfriend and was going to kill himself, officials said.
Nobody apparently heard or saw what happened, but hotel surveillance video shows Sykes entering Cutler's hotel room just before 9 a.m. and leaving four minutes later, said Robert Boyce, chief of detectives for the New York Police Department.
Police are still searching for Sykes, who is seen on surveillance video taking a bus to the Staten Island Ferry, Boyce said.
A housekeeper found the injured family and called police, who discovered a black-handled bloody kitchen knife nearby, Boyce said.
Cutler's shocked aunt said she last saw Cutler and Sykes on Monday night when they picked up the children from her Brooklyn home.
"She was doing great," Helen Mathis said.
Mathis said she had no knowledge of any domestic disputes between her niece and Sykes. But authorities said a domestic incident report was filed with police Tuesday after Sykes was accused of stealing Cutler's phone, claiming she was contacting another man. Officials said there was no history of domestic violence between Cutler and Sykes.
Cutler was placed in the hotel by the Department of Homeless Services on Dec. 6, de Blasio said.
About 2,600 homeless New Yorkers, including 637 children, stay in 41 hotels citywide for an average of about two weeks while officials determine whether they can be placed more permanently in other city facilities, officials said.
Contact information for Sykes and his family members wasn't immediately available.