Witnesses describe chaotic scene during Thousand Oaks shooting
Police said 12 people -- including a sheriff's sergeant -- are dead after a gunman opened fire in a crowded Southern California bar late Wednesday.
The gunman was also found dead in the bar.
Sheriff's Sgt. Ron Helus responded to the scene and was shot after he entered the building, Ventura County Sheriff Geoff Dean said. He died at a hospital early Thursday. Dean said at least 10 additional people were shot and wounded. No other information on the victims was immediately known.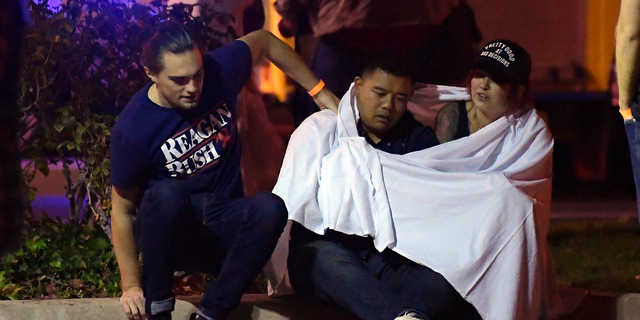 A man who said he was at the Borderline Bar & Grill in Thousand Oaks told ABC News that he watched a man shoot into the crowd.
"I was at the front door and I was talking to my stepdad," said John Hedge, of Moorpark. "I just started hearing these big pops. Pop, pop, pop. There was probably three or four. I hit the ground. I look up - the security guard is dead. Well, I don't want to say he was dead, but he was shot. He was down. The gunman was throwing smoke grenades all over the place. I saw him point to the back of the cash register...and he just kept firing. I ran out the front door."
Witnesses told ABC News the suspect fired several shots from a handgun before tossing smoke bombs and firing again. Police told The Los Angeles Times that about 30 shots were fired.
Erica Sigman told the station she heard "loud" and "very fast, very rapid" gunshots.
"There were strangers holding my hand, saying 'you're going to be OK,'" she said. "Even though there's bad in this world, there's a lot of good people," she said.
Taylor Whittler, 19, estimated the gunshots lasted "a good thirty seconds."
She said the gunman was wearing a "ski mask over his face, but only the bottom half" and wore a black baseball hat. She said he appeared to know how to reload his gun and did it with ease.
The bar's website says its hosts "College Country Night" every Wednesday. Police said hundreds were inside when the shooting occurred.
Thousand Oaks, a city of about 130,000 people, is about a 40-minute drive west of Los Angeles.
This is a developing story. Check back for updates.
Fox News' Amy Lieu and The Associated Press contributed to this report.