Wilfred DeFour, Tuskegee Airman during World War II, dies at 100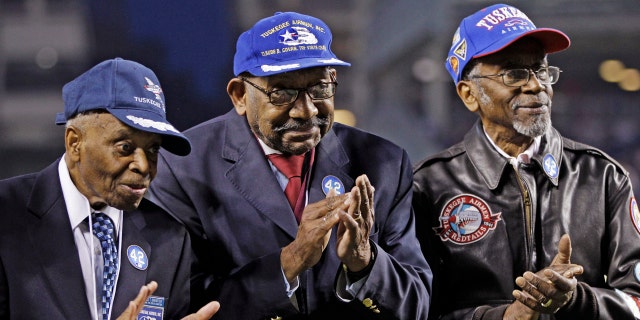 NEWYou can now listen to Fox News articles!
One of the first African-American military aviators, who served with the Tuskegee Airmen, in World War II died Saturday from apparent natural causes in his New York City apartment. He was 100.
Wilfred DeFour was discovered unconscious and unresponsive inside his Harlem apartment at approximately 9:00 a.m., police said.
Emergency Medical Service workers pronounced him dead on the scene. Officials say his cause of death appeared to be natural causes but they will perform an official autopsy report.
DeFour, who served as an aircraft technician with the Tuskegee Airmen, joined the Air Corps in 1942 and was assigned to the 366th Air Service Squadron, serving in Italy, after basic training in Tuskegee, Alabama.
The Tuskegee Airmen were the first African-American military aviators in the U.S. Armed Forces, which were racially segregated until after the war.
DeFour, who worked as a Post Office employee from more than 30 years following his military service, was honored just last month at a ceremony to rename a Manhattan post office after the Tuskegee Airmen.
At the event, Defour said he and his fellow airmen didn't realize they "were making history at the time."
"We were just doing our job."
The Associated Press contributed to this report.