Washington teacher accused of groping taxi driver shot and killed special-ed teacher before turning gun on himself, police say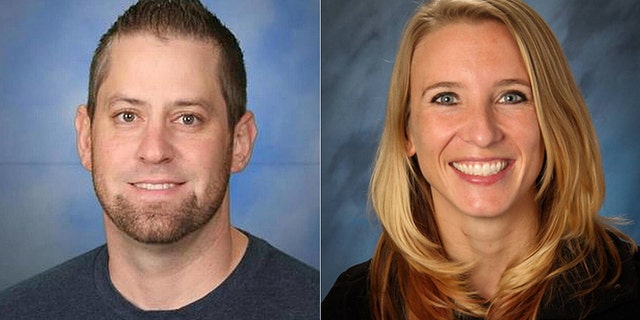 A Washington teacher, who was charged with groping a female taxi driver, shot and killed a special education teacher before turning the gun on himself Wednesday, police said.
Dustin Altshuler, 37 and Laura Cole, 35, both taught in the Pasco School District. Altshuler taught high school computer-assisted drafting and robotics. Cole taught special education at Whittier Elementary.
Kennewick police were called to Altshuler home in Kennewick after a relative called authorities for a welfare check, KEPR-TV reported.
WOMAN, 22, FILMED CHOKING OUT BOUNCER AFTER WRONGLY THINKING HE GROPED HER
"Officers went to the house. All the doors were locked. They looked in the windows and couldn't see anything. Nothing exigent that would allow our officers to breach the doorway and check on something. So they left," Sgt. Aaron Clem of the Kennewick Police Department said, according to KEPR-TV.
Later, Altshuler's family member went to the home and found the educator dead. The police were called to the scene where they found the bodies of the couple. Investigators believe Altshuler shot and killed Cole before taking his own life.
"(It's an) ongoing investigation, so we don't know if we'll find something in their history or something that led to this but with both of them deceased who knows what we're going to find," Clem said.
Reports say Altshuler and Cole were married or dating.
NEW JERSEY FAMILY'S BRUTAL SLAYING REVISITED BY POLICE 40 YEARS LATER WITH NEW BALLISTIC, DNA TESTS
Altshuler was placed on paid administrative leave after being accused of drunkenly groping a female taxi driver last weekend. The taxi driver alleged Altshuler grabbed her "by the neck and between the legs," the Tri-City Herald reported. He was charged with felony indecent liberties on Wednesday and had been slated to appear in court Thursday.
The Pasco School District said in a written statement Thursday that counselors would be on hand to support students and staff who knew them.
The Tri-City Herald reported Cole was a published author who has written fantasy novels.
The Kennewick Police Department did not immediately respond to Fox News' request for comment.
The Associated Press contributed to this report.