Virginia teacher shot by 6-year-old student in classroom says she'll 'never forget the look on his face'
Richneck Elementary School teacher Abigail Zwerner recalls shooting by first-grade student: 'I just wanted to get my babies out of there'
A Virginia teacher shot by a 6-year-old student inside her first-grade classroom earlier this year said in her first interview she will never forget the boy's face at that moment.
Abigail Zwerner, whose hand was bandaged from another recent surgery regarding injuries suffered in the Jan. 6 shooting at Richneck Elementary School in Newport News, Virginia, sat down with NBC "Today" host Savannah Guthrie recounting her haunting memories of what she says began as a normal school day.
"There's some things that I'll never forget, and I just will never forget the look on his face that he gave me while he pointed the gun directly at me," Zwerner said. "That's something that I will never forget. It's changed me. It's changed my life."
"The morning it felt like just a regular school day, but I started hearing things, and things started happening that made my fear grow," the teacher recalled. "As the day went on, it grew more. My fear grew more. I remember him pointing the gun at me. I remember the look on his face. I remember the gun going off. I remember feeling something. It was a pretty scary day."
VIRGINIA PROSECUTORS TAKE CASE OF BOY, 6, WHO SHOT TEACHER IN CLASS: POLICE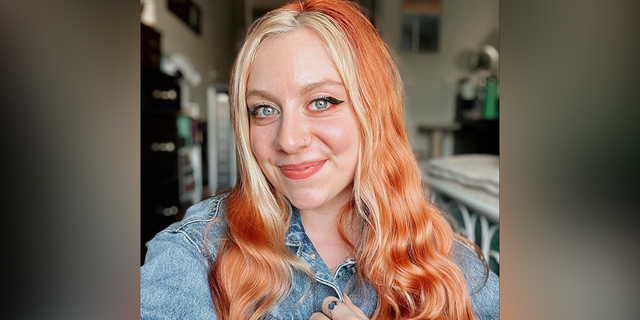 Guthrie noted how the police chief afterward commended Zwerner's actions as heroic, but Zwerner said what she did to save the other children remains "a blur."
Zwerner said she knows she "got them out and went to go get help for myself," but she did not know at the time that her lung had collapsed. Zwerner said she remembers starting not being able to breathe. As her vision too began to go out, she recalled making it to the office before she passed out.
"I was terrified. In that moment, my initial reaction was, 'Your kids need to get out of here. This is not a safe classroom anymore. And then you need to go find help for yourself,'" Zwerner said. "It was pretty shocking. Once the firearm went off, and then I felt something – that shock itself that I had been shot…"
"You knew you had been shot?" Guthrie asked.
"Yeah, that was pretty shocking itself, but I just wanted to get my babies out of there," Zwerner said.
"They were screaming," she said of the other children. "I think they knew as well that they had to get out of there. But they were extremely frightened and screaming."
"I thought I had died," Zwerner said. "It could have been fatal… We believe with the bullet going through my hand first it most likely saved my life."
The teacher's attorney, Diane Toscano, filed a notice of intent to sue school administrators, arguing the Richneck administration failed to take action after it was warned three separate times that the boy had a gun with him the day Zwerner was shot. The lawyer said she plans to file a lawsuit in two weeks. Zwerner agreed more should have been done to protect her.
VIRGINIA TEACHER EMAILS REVEAL 'BEHAVIORAL DIFFICULTIES' WITH 6-YEAR-OLD WHO SHOT HER: REPORT
Zwerner said the gunshot went through her left hand, rupturing the middle bone and index finger, and her thumb. It entered her upper chest, where scarring and bullet fragments remain.
"I'm not sure when the shock will ever go away because of just how surreal it was. And the vivid memories that I have of that day, I think about it daily. Sometimes I have nightmares," the teacher said. "Seeing an open wound on your body and remembering how you got it is pretty traumatizing in itself."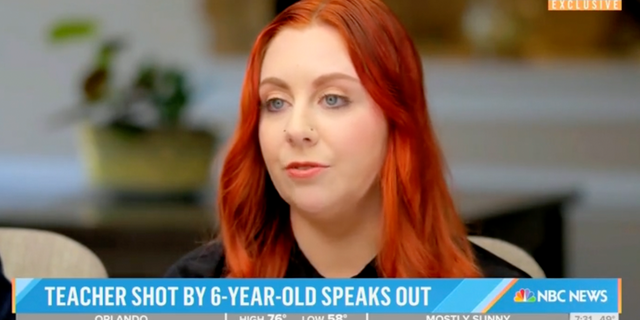 The Newport News prosecutor decided not to charge the 6-year-old boy in the case.
"We welcome the prosecutor's decision and continue to pray for Ms. Zwerner's complete recover," Jamie Ellenson, an attorney for the 6-year-old boy's family, said in a statement to NBC News. The family has previously said the 6-year-old has an "acute disability" and is receiving the treatment he needs under court-ordered temporary detention at a medical facility.
Zwerner was also joined by her mother and twin sister, both of whom are also teachers.
"You can't wrap your head around that. All of us being teachers in classrooms at rough schools, rough kids. You're never afraid like that. I never would have thought," her mother said. The woman recalled how her 25-year-old daughter called her "mommy" the first time she saw her after the shooting.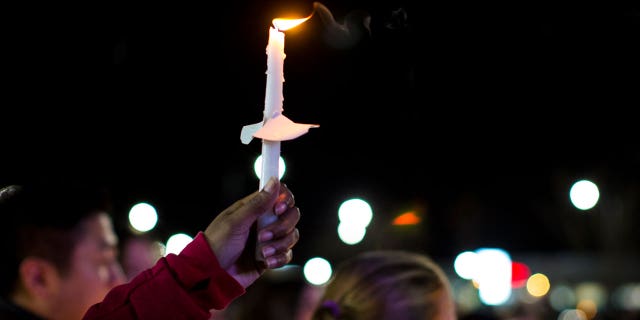 "I haven't heard mommy in a long, long time and it kind of broke my heart," her mom said.
Zwerner said she was thankful for the outpouring of support since the shooting.
CLICK HERE TO GET THE FOX NEWS APP
"It helps me remember to take each day as they come. That each day is special," Zwerner said. "I'm still here. I believe I made it here for a reason."
She also had a message to her other students. "I would first tell them that I love each and every one of them. I'm very grateful that they're alive and that they're safe and they're healthy. And I just miss them dearly," Zwerner added.