Philadelphia police arrest 91 people during violent riots after shooting of armed Black man; 30 cops hurt
Police said 27-year-old Walter Wallace appeared to disregard orders to drop a knife
The fatal police shooting of a Black man allegedly armed with a knife in the western side of Philadelphia sparked violent protests overnight, with 91 people arrested and 30 officers injured early Tuesday – including one sergeant who was "intentionally run over" by a pick-up truck, officials said.
Hundreds of people took to the streets to protest the Monday afternoon shooting of 27-year-old Walter Wallace Jr., calling it another example of police officers killing a Black man. Demonstrators marched to a city police station while officers lined up behind metal barricades.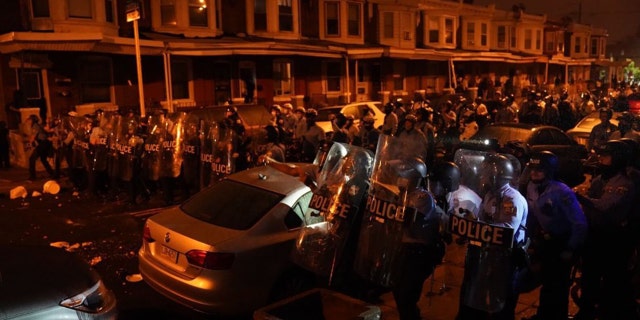 At least 91 people were arrested over the course of the night, Philadelphia Police Commissioner Danielle Outlaw said during a Tuesday afternoon press conference.
"Yesterday, individuals throughout the city came together to peacefully protest – the criminal activity that occurred throughout the city was not a part of these protests and it did not serve any legitimate purpose," Outlaw said.
Of the 91 people arrested, 11 were charged with assaulting police, 76 were charged with commercial burglary and three were charged with failure to disperse, she said. There are also "several" ongoing investigations.
Meanwhile, eight PPD vehicles were damaged, including one that was set on fire. The others were vandalized or had windows damaged. A fire department medic unit's windshield was also vandalized, she said.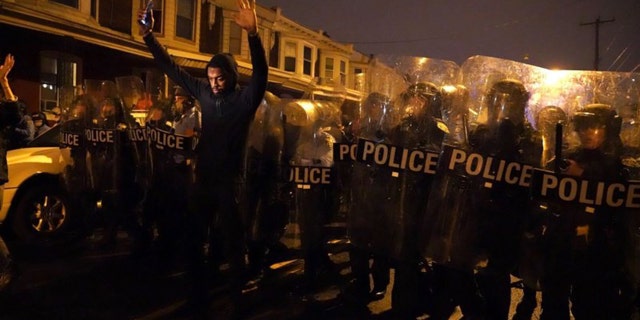 Outlaw later spoke anecdotally in noting that the people police saw on the streets during the civil unrest were not the same people she interacted with at the crime scene.
"Those were not the same people that we later interacted with," she said, calling it a "different group of folks" from different demographics. She said she had heard similar complaints from local communities.
She said the police department is anticipating additional bouts of civil unrest.
"As such, we will be taking additional steps to ensure order. We will increase our officer presence around the city at key locations," she said. "Roving and static officer details that are part of the looting response team will also be deployed to commercial districts and other key locations throughout the city."
The demonstrations quickly turned violent as some protesters were seen throwing objects at officers while at least one police vehicle was set on fire.
TENSE PROTESTS ERUPT IN PHILADELPHIA AFTER POLICE SHOOT AND KILL SUSPECT
Cops cars and dumpsters were set on fire as police struggled to contain the crowds. More than a dozen officers, many with batons in hand, formed a line as they ran down 52nd Street chasing protesters away from the main thoroughfare. The crowd largely dispersed then.
Thirty officers were injured, most of them from being struck by projectiles such as bricks and rocks, according to preliminary information from police.
A 56-year-old sergeant was hospitalized in stable condition with a broken leg and other injuries after she "was intentionally run over by an individual driving a pick-up truck." The other injured officers were treated and released, Outlaw said.
Samantha Melamed, a reporter for the Philadelphia Inquirer, posted an image of a man holding a toddler while facing a police officer. She tweeted that the man told his 3-year-old son, "This is what racism looks like. Take a look."
PHILADELPHIA GRANDMOTHER BLINDED IN RANDOM ACID ATTACK, DAUGHTER SAYS
The shooting occurred before 4 p.m. as officers responded to a report of a person with a weapon, police spokesperson Tanya Little said.
Officers were called to the Cobbs Creek neighborhood and encountered the man, later identified as Walter Wallace, who was holding a knife, she said.
Officers ordered Wallace to drop the knife, but he instead "advanced toward" them. Both officers then fired "several times," Little said.
The officers were not armed with Tasers, Outlaw said. Each fired seven shots, though it was not yet clear how many struck Wallace, Chief Inspector Frank Vanore said.
According to Outlaw, no supervisor was on scene at the time but arrived "shortly thereafter." As of the 1 p.m. press conference, officials had not yet interviewed the officers involved, she said.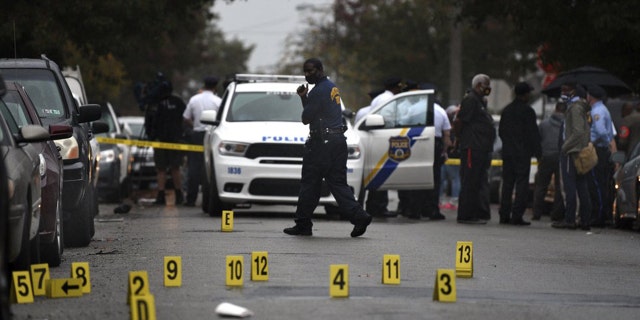 A graphic video emerged that purportedly showed the moments leading up to the shooting. It showed officers pointing their guns at Wallace as he walks in the street and around a car. He walks toward the officers as they back away from him in the street, guns still aimed at him.
They yell at him to put his knife down. The two officers then fired several shots and Wallace collapses in the street. A woman runs up to him screaming while several bystanders then approach him.
It is unclear in the video if he had a knife. Witnesses said he was holding one.
Wallace was hit in the shoulder and chest. One of the officers then put him in a police vehicle and drove him to a hospital, where he was pronounced dead a short time later, Little said.
No officers or bystanders were injured in the shooting, Little said. The names of the officers who fired the shots were not immediately disclosed. Both were wearing body cameras and were taken off street duty pending the investigation.
The police department and city's district attorney have vowed to look into the shooting.
Eyewitness Maurice Holloway told NBC he and other neighbors had tried to get Wallace to put down the knife before police arrived.
"That's when it matters. He's in our community, we're not threatened by him because we know him," Holloway said during a segment that aired Tuesday morning. "His mother tried to grab him, to console him."
CLICK HERE TO GET THE FOX NEWS APP
Police said it was unclear how many times the person was shot but Walter Wallace Sr., the man's father, told the paper that he believed his son was shot 10 times. He told the paper that his 27-year-old son had mental health issues and was on medication.
"Why didn't they use a taser? His mother was trying to diffuse the situation," he said, according to the paper.
The Associated Press contributed to this report.