Video shows Colorado students smash piñata with Trump's photo; teacher on leave
A Spanish teacher in Colorado was placed on administrative leave after photos and videos surfaced of high school students smashing a piñata with a picture of President Donald Trump on it during a Cinco de Mayo celebration on Friday.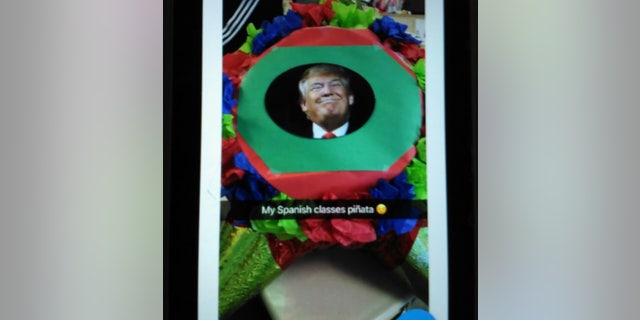 Meantime, an unspecified threat forced the school, Roosevelt High, to cancel its classes Monday. "After consulting with the Johnstown Police Department, which is handling the investigation, we determined that more time was needed to assess the credibility of the threat and ensure the safety of our students," Weld County Superintendent Martin Foster announced, without saying whether the threat was related to the piñata controversy.
Fox News obtained the photos and videos on Monday that showed students taking a bat and continually hitting the piñata. Another person pulled a string to hold the toy up on a tree, the videos showed.
The "Trump piñata" swung in the air as fellow classmates yelled words of encouragement from the sidelines to blindfolded participants.
OREGON HIGH SCHOOL APOLOGIZES AFTER TEACHER DISTRIBUTES PAPER ON RAPE CULTURE TO STUDENTS, STAFF
"He's been defeated," a caption on a photo read while two students held up the toy with the photo of Trump. Another picture was a selfie of a student with the piñata.
On Saturday, Weld County School District announced the teacher involved in the incident was placed on paid administrative leave. The teacher's name was not released.
PENN STATE TO BEGIN DISCIPLINARY PROCEEDINGS AFTER FRAT PARTY DEATH
The school district will investigate the incident starting on Monday, according to the statement posted on the district's website.
"This was an incredibly disrespectful act that does not reflect the values of Roosevelt High School or the school district," Foster said.