Veterans defend Warthog as Pentagon looks for replacement amid cuts, report says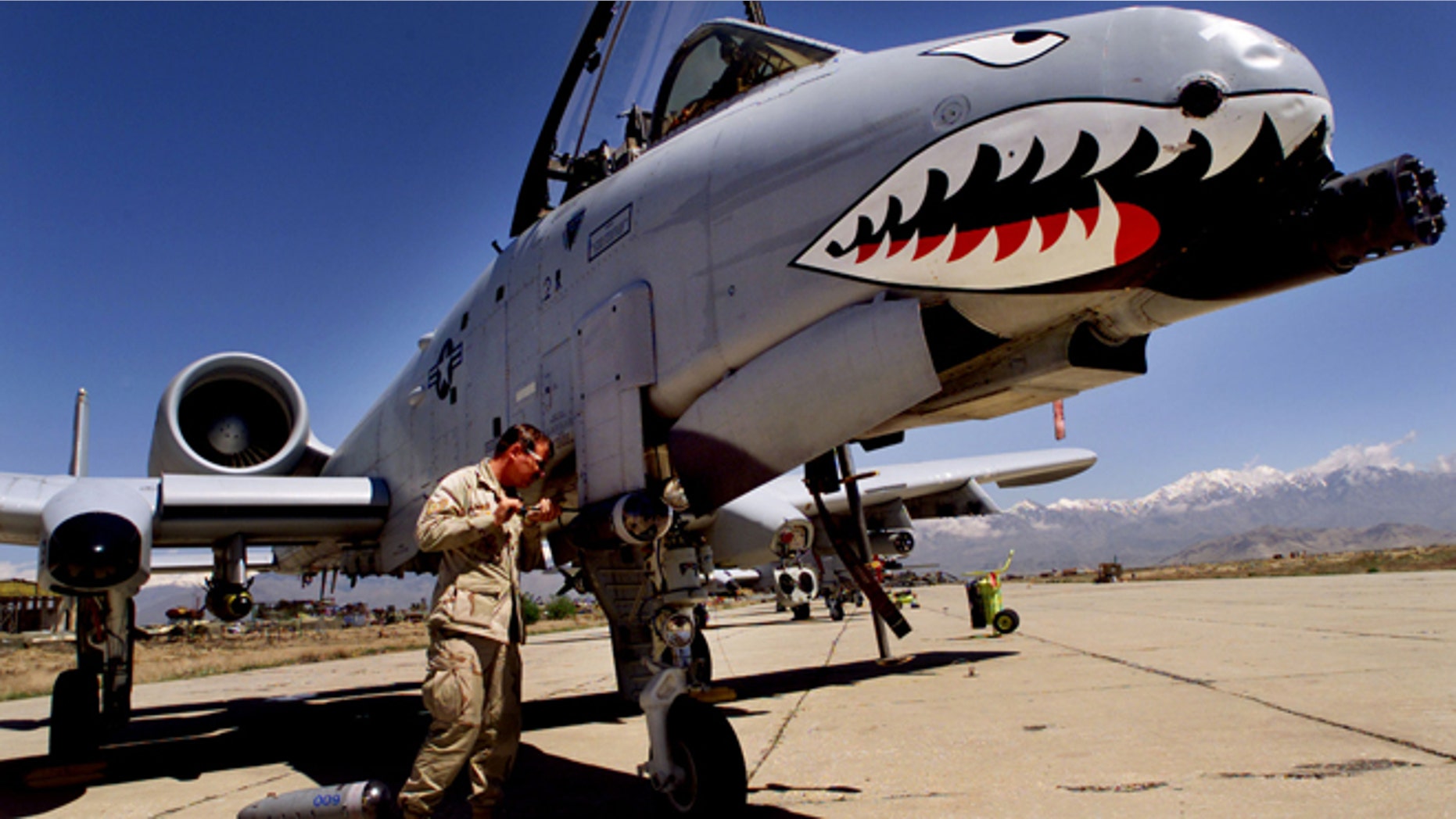 It may not be the sleekest or fastest warplane in the modern U.S. arsenal, but the Pentagon's plan to shelve nearly 300 A-10s, also known as Warthogs, has some veterans reminding the military brass not to judge a book by its cover.
Bloomberg News reported Tuesday that the Pentagon intends to retire the entire 283-plane fleet, which would save about $4.2 billion before budget cuts in five years or so.
One top Army officer balked at the Pentagon's idea and praised the 1970s-era warplane, known for carrying a Gatling gun that can spit out 1,100 rounds and perform close-air support.
[pullquote]
"It's a game-changer," Gen. John F. Campbell, the Army's vice chief of staff, said at a March Senate hearing, according to Bloomberg. "It's ugly, it's loud, but when it comes in and you hear that 'bwrr,' it just makes a difference."
The A-10, which entered service in the 1970s, was designed to take out Soviet tanks. While it hasn't been in production for years, the aircraft is known for being proficiently used to conduct close-air support missions, up through the wars in Afghanistan and Iraq.
The Bloomberg report pointed out that it was a Warthog that saved hundreds of troops traveling on a dirt road in Iraq back in 2003.
"They would have killed hundreds of our dudes if it weren't for the firepower of the A-10, with its seven-barrel Gatling gun that sounds like a buzz saw," Russell Carpenter, the retired Air Force chief master sergeant, said.
The Air Force reportedly said retiring the A-10s will not put soldiers' lives at greater risk, and planes like the F-16 and F-35 can perform the role for close-air support.
Rep. Howard "Buck" McKeon, R-Calif., the chairman of the Armed Services Committee, unveiled the $601 billion measure on Monday that reflects smaller military budgets after more than a decade of war in Iraq and Afghanistan and the clout of congressional deficit hawks determined to cut federal spending.
Forced to make tradeoffs within spending limits, the bill would spare the U-2 spy plane, born during the height of the Cold War, by barring any money to the Pentagon to retire the aircraft. Amid the clamor in Congress, the bill also would force the Pentagon to keep the A-10 Warthog in storage.
"For troops in contact, the A-10 is one of America's best weapons. It should be retained until we can afford a real replacement," DefenseNews.com said in an article titled, "A-10 Still the Best in Its Field."
The Associated Press contributed to this report