Vans employee fired for allegedly cursing at MAGA hat-wearing teen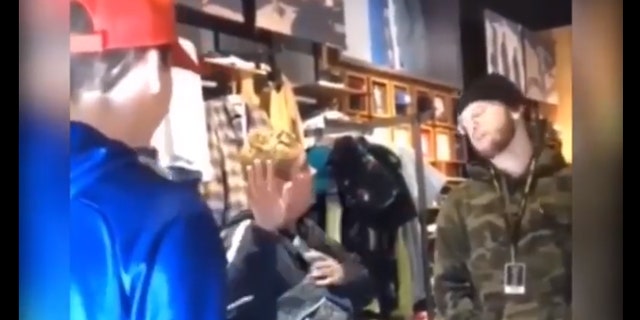 A Vans shoe store employee was fired after he allegedly cursed at a 14-year-old customer because the teen was wearing a red "Make America Great Again" hat.
The unidentified employee, working at a store in Overland Park, Kansas, seemingly said "f--k you" to the teen as he appeared to be shopping with his family, an encounter that was filmed and uploaded to social media.
WARNING: VIDEO MAY CONTAIN PROFANITY
"He did nothing to you — what did you say to my son? To my 14-year-old son?" an unidentified woman asked the employee in the video. The worker didn't deny he was the source of the comment.
"I'm sure he's heard it before," the employee then told the woman, who headed to another area of the store in search of a manager.
HOWARD KURTZ: MAGA CAPS UNDER FIRE AT TRUMP-HATERS BLAME HIS SUPPORTERS
"My son walked into this store. That gentleman [appearing to point at the employee] cursed and told him, 'Take off your hat,'" the woman told another Vans employee. "He said nothing to him, 14-year-old child, then he said, 'F you' to my son. My son said nothing to him, did nothing."
Vans, in a statement to Fox News, confirmed that the employee involved in the interaction "is no longer with the company," and added the company's "primary focus is to provide the best customer service experience."
CLICK HERE TO GET THE FOX NEWS APP
"The actions and comments from one employee in our Oak Park location are in contrast with our company's values and belief in personal expression," the statement continued.