USS Michigan, locked, docked and loaded, is a missile-packed powerhouse
The USS Michigan, a nuclear-powered submarine armed with Tomahawk cruise missiles, is now operating in the same area as the USS Carl Vinson aircraft carrier group off the Korean Peninsula in the Sea of Japan.
The vessel, which arrived in the southwestern city of Busan on Tuesday, is one of a fleet of Ohio-class submarines-- some of the most powerful naval assets the U.S. has. Here's a quick overview of the vessel:
The USS Michigan is more than 560 feet long and weighs more than 18,000 tons when submerged and is regularly deployed throughout the Western Pacific from its home port of Bremerton, Wash.
It was first launched in 1980 and commissioned two years later. It was built to carry the Navy's third generation submarine-launched ballistic missile, the Trident C-4. The Michigan carried out its primary mission of deterrence for nearly two decades in over 60 missions.
At the end of the Cold War, it was spared from decommission and converted with two other ships to the Ohio-class sea frame. In 2007, it followed the USS Ohio, Florida and Georgia as a guided missile submarine.
The vessel is capable of hitting speeds of over 20 knots while submerged and can drop over 800 feet below sea level. It also contains 22 tubes that carry seven Tomahawks each.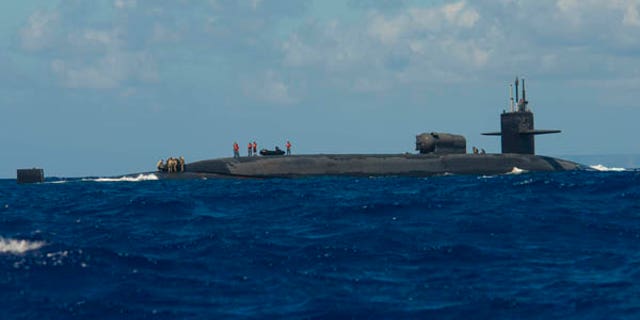 The USS Michigan has an unlimited range of travel and can stay at sea for approximately 60 days with full supplies of food.
The Michigan is the third ship to bear the name in the U.S. Navy's history. The original Michigan was the first iron warship in the U.S. Navy and likely the first iron or steel warship of its size in the world, according to a biography on the Navy's website. It was on duty throughout the Great Lakes during the Civil War but never saw battle.
It was renamed the USS Wolverine in 1910 when it was turned over to the Naval Reserve as a training ship.
That same year, the second USS Michigan was commissioned and assigned to the Atlantic Fleet with other first-class battleships. During World War I, the ship escorted convoys, trained recruits and engaged in Fleet maneuvers before being placed on limited commission in 1919.
The third and current Michigan is tasked with standing at the ready to support U.S. operations around the world and is known for its readiness.
The sub had won a prestigious Battle Efficiency Award two years in a row with its Blue Crew winning in 2010 and the Gold Crew in 2011.
It also had the distinction of having the first four women selected to serve on guided missile subs in 2016, making the USS Michigan the first US submarine with enlisted female soldiers.