UFO search: Retired Navy senior chief 'not going to jail' to report what he saw in Afghanistan
Lawmakers push Department of Defense to establish a secure way for witnesses to report potential UFO sightings
A retired Navy senior chief petty officer said he saw a metallic orb in Afghanistan that's similar to the one shown in a video during last month's Senate hearing, but there's no secure way for him to come forward.
"I'm going to be honest with you. I'd love to tell everything in detail, but I'm not willing to go to jail to do it," said a retired Navy senior chief, whose name is being withheld for fear of repercussions.
"I'm constrained because of security agreements, so they need a way for submissions to be made," he told Fox News Digital.
Not having a secure way to report potential UFOs was a glaring oversight in the eyes of two lawmakers on both sides of the aisle after All-domain Anomaly Resolution Office (AARO)'s April 19 UFO hearing in front of the Senate Armed Services Subcommittee on Emerging Threats and Capabilities.
FOOTAGE OF UFOS OVER CONFLICT ZONES SEEN FOR FIRST TIME: 'THIS IS DEVASTATING'
WATCH REPORTED MIDDLE EAST UFO IN 2022:
AARO is an office within the U.S. Office of the Secretary of Defense that investigates UAPs – unidentified anomalous phenomena – which is the government-created word for UFOs.
Head of the agency, Dr. Sean Kirkpatrick, showed the second-along video clips (seen above) to lawmakers and said, "This is essentially all the data we have of this event."
'MOSUL ORB': US SILENT ON UFO FILMED BY MILITARY OVER IRAQ
"It's going to be virtually impossible to fully identify that, just based off that video," he said, so it's considered an "unresolved case."
The retired Navy senior enlisted said that he and other military service members saw a similar metallic orb from an airborne platform in Afghanistan in the early 2000s.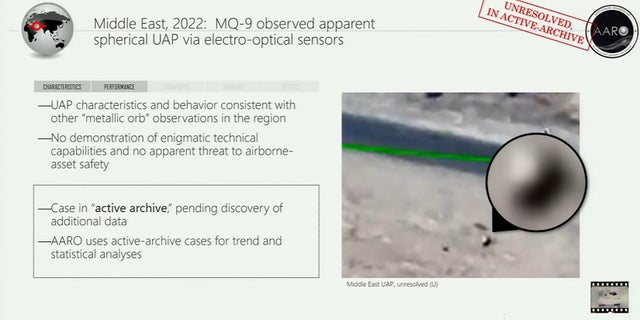 "There's quite a bit of gray here, because the customer we were working for at the time retained all collected materials," the Navy senior enlisted told Fox News Digital.
"But I know where the bodies are buried, not necessarily where the digital data is though. I can point them in the right direction."
'RUNAWAY FIREBALL' COULD BE ALIEN PROBE THAT CRASHED OFF COAST OF PAPUA NEW GUINEA: HARVARD SCIENTIST
After the April 19 Senate hearing, Senators Mark Warner (D-VA) and Marco Rubio (R-FL) wrote a five-bullet-point letter to the DOD, which was shared with Fox News Digital.
One of the arguments was the lack of a secure way for potential UFO witnesses to safely come forward and share their stories.
NAVY PILOT RYAN GRAVES TALKS ABOUT HIS PERSONAL UFO INTERACTION:
"To date, we have seen no efforts to communicate the existence of the secure process to the public," the senators said in their letter. "We request that you provide us an update on the plan to publicize the secure process for witnesses to come forward."
Rubio told Fox News Digital, in an emailed statement through a spokesperson, that Americans "are understandably concerned" about objects in the county's airspace and near facilities.
UFO SHOOT-DOWNS REVEAL 'STRATEGIC GAPS' IN SECURING US AIRSPACE, DEFENSE EXPERTS SAY
"What's worse, our government spent too many years ignoring or downplaying the threat," Rubio said. "Thankfully, that is beginning to change, but as we saw earlier this year, the defense and intelligence communities are still struggling."
The Florida senator referring to the Chinese spy ballon and three other UAPs that the Biden Administration shot down in February.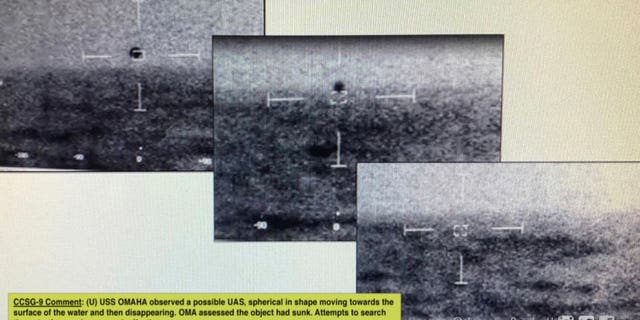 "Senior Pentagon leaders said publicly that two of the UAP were almost certainly not balloons, but Congress has not been provided the rationale or sensor data to support this unprecedented action," he said.
"In this instance, we shot down multiple UAP, and it's not clear, to this day, we know with confidence what they were."
UFO SHOOT-DOWNS REVEAL 'STRATEGIC GAPS' IN SECURING US AIRSPACE, DEFENSE EXPERTS SAY
He said that not only is the American public "lacking information," but lawmakers tasked with congressional oversight are "being denied critical information."
"We stood up the AARO office to address just such an instance; to rapidly aggregate and analyze the data and apply the scientific process. We need the (Biden) Administration to fully empower the AARO office and comply with the guidance set out in the FY23 NDAA."
CLICK HERE TO GET THE FOX NEWS APP
"FY23 NDAA" stands for fiscal year 2023 National Defense Authorization Act, which includes clauses about establishing secure pathways for witnesses and whistleblowers to come forward with their stories.
The retired Navy senior chief said that what the senators are asking for "is likely what I would need to submit."