Time capsule from 1980s NYC club mistaken for WWII-era bomb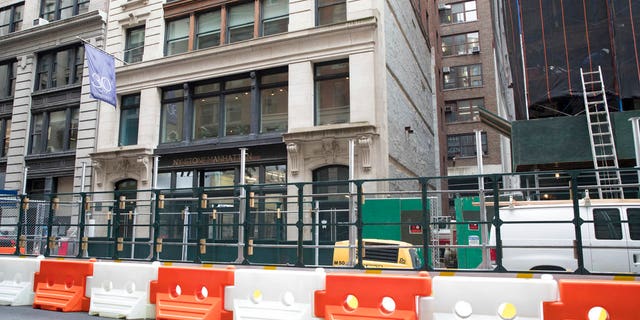 A device shaped like a World War II-era bomb unearthed by Manhattan construction workers on Wednesday turned out to be a time capsule from a popular 1980s nightclub that helped Madonna launch her career, a former owner said.
The NYPD's Emergency Services and bomb squad units were called to the scene in Manhattan's Flatiron District for a "suspicious package." Construction workers dug up the fake bomb while working at the site.
After a brief evacuation, officials determined the item wasn't a threat, and the story of how the item ended up there began to surface.
ANCIENT NATIVE AMERICAN CANOE HUNDREDS OF YEARS OLD FOUND IN LOUISIANA
Turns out, the "bomb" was actually a time capsule that clubgoers and bartenders from Danceteria buried in 1985, the club's former owner John Argento told the New York Daily News.
He said he bought the item for $200 at an Army Navy store on Canal Street.
"I kind of mentioned it as a joke back then," Argento told The Daily News. "Someone's going to dig this up and think it's an unexploded bomb."
"We forgot about it and went on to the next party."
Many icons in the 1980s, including Madonna, Billy Idol and Duran Duran, performed at Danceteria. Madonna was also seen dancing through the place, which closed in 1986, in the movie "Desperately Seeking Susan."
Clubgoers back then were allowed to add contributions to the time capsule during parties. Three weeks later, it was buried with numerous "messages to the future," Argento told Gothamist.
Argento, who now owns two clubs in New Jersey, said he thought he would never see the time capsule again after the building's current superintendent said a concrete pad was placed in that area for an air-conditioning unit. He added he hopes the contents are still intact because he has received several questions about them through the years.
COLOMBIA WORKS TO SALVAGE SPANISH TREASURE SHIP LOADED WITH ESTIMATED $1 BILLION IN GOLD, JEWELS
The police said the former club owner may be able to pick up the contents of the capsule once they've been thoroughly searched.
The Associated Press contributed to this report.