Pot-smoking tipster finds overweight female tiger in abandoned Houston home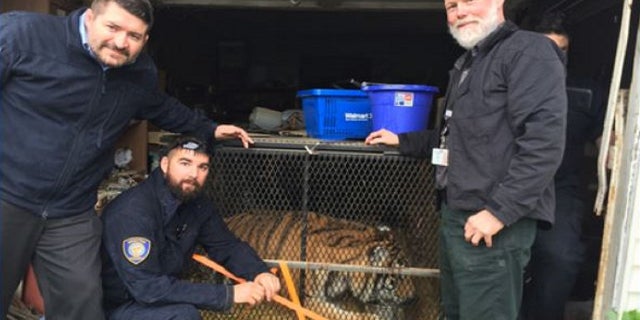 The anonymous tipster who told cops about a 1,000-pound tiger inside a Houston home had broken into the abandoned building to smoke marijuana and initially thought he was hallucinating when he saw the caged big cat, officials said.
Authorities went to the residential home Monday and found the overweight female tiger in deplorable conditions inside a "rinky-dink" cage in the garage, Click 2 Houston reported.
"A pretty small cage inside basically a garage in a house that didn't look like it was in the best shape," Lara Cottingham, with the city of Houston told reporters of the scene. "So it was important that we get it out of the situation."
Police said the garage was secured with a screwdriver and a nylon strap.
RARE SUMATRAN TIGER AT LONDON ZOO KILLED BY PROSPECTIVE MATE MOMENTS AFTER INTRODUCED
The tiger was tranquilized and taken to BARC Houston, a city organization dedicated to humane animal care, FOX26 Houston reported. They will then try to find a permanent home for the animal.
"There's an incredible network all across the United States and here in Houston and here in Texas. It's just finding the right combination and then transporting," Cottingham said.
Houston police are investigating who may have owned the animal.
Meanwhile, the Houston Zoo released a statement Monday saying that it was aware of the tiger but that it was not involved and would not be receiving the animal.
CLICK HERE TO GET THE FOX NEWS APP
"The Houston Zoo is home to two Malayan tigers, Berani and Satu, and does not have the capacity to receive additional tigers," the zoo said. "Fewer than 3,500 tigers of all tiger subspecies remain in the wild today, according to the Tiger Conservation Campaign. Malayan tigers surviving on the Malay Peninsula are critically endangered with an estimated population of 300 remaining in the wild."