Hundreds of African migrants cross US-Mexico border in Texas over past week: reports
NEWYou can now listen to Fox News articles!
EL PASO, Texas – More than 500 migrants from African nations -- including Angola, Cameroon and the Republic of Congo -- have been apprehended in Texas, at the Del Rio Border Patrol sector of the U.S.-Mexico border, since May 30, according to U.S. Customs and Border Protection.
One group of 116 African migrants apprehended by border agents last week were caught wading across the Rio Grande in order to gain access to the U.S., authorities said.
ISIS PLOTTED TO SEND WESTERNERS TO US THROUGH MEXICO BORDER: REPORT
Del Rio sector's chief patrol agent, Raul L Ortiz, told BBC News that language barriers and cultural differences were causing "additional burdens on processing stations" as border agents process migrants who come from areas other than Spanish- or Portuguese-speaking Central and South America.
It remained unclear what route the African migrants had taken to arrive to the U.S.-Mexico border. Some Africans recently told NPR they traveled from Africa to Brazil and then north though Colombia and Central America.
CBP called the "dramatic rise" in migrants from Africa a "humanitarian crisis," according to BBC News. The City of San Antonio is asking for French-speaking volunteers to help them cater to this new group of migrants.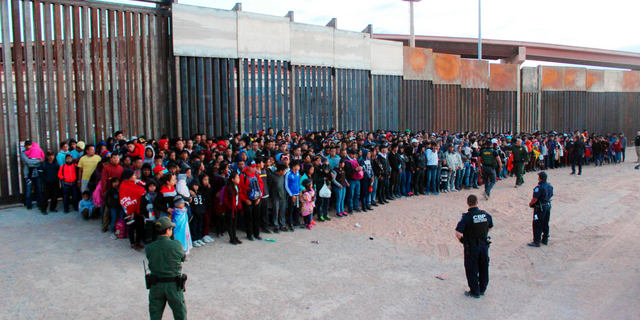 "BREAKING: City confirms hundreds of migrants from the Congo have arrived in SA. The city is in desperate need for French speaking volunteers," local news reporter Jaleesa Irizarry wrote on Thursday.
A city spokesperson told the BBC that officlals are "operating a resource center for those traveling" and have "partnered up with local charities" as African migrants flow in from the border.
It's unclear if the migrants in Texas were seeking asylum, and the agency is still processing them.
The number of migrants apprehended at the U.S.-Mexico border skyrocketed last month to levels not seen in more than a decade, with U.S. Customs and Border Protection reporting nearly 133,000 arrests in May.
"We are in full-blown emergency," a CBP official told Fox News on Wednesday. The number of apprehensions was the highest monthly total in more than 13 years. In April, authorities recorded 99,304 arrests.
CLICK HERE TO GET THE FOX NEWS APP
President Trump threatened last week to slap tariffs on goods from Mexico unless it cracks down on the flow of migrants.
Fox News' Brooke Singman and the Associated Press contributed to this report.