The Latest: Arrest made in San Diego homeless attacks probe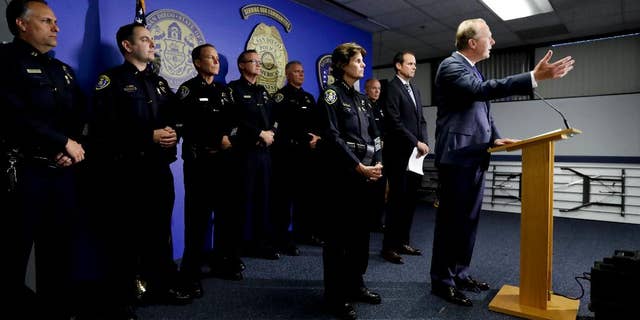 NEWYou can now listen to Fox News articles!
SAN DIEGO – The Latest on the investigation of a series of attacks on homeless people in San Diego (all times local):
1:21 p.m.
Police say a fifth homeless man was attacked before police arrested a man in the series of assaults that have left three dead.
San Diego Police Department called a news conference Friday afternoon to announce the arrest of the man.
Capt. David Nisleit told The Associated Press that two Harbor police officers heard screams around 4:30 a.m. and found the latest victim under a freeway overpass in the downtown area with severe trauma to his upper body.
He says San Diego police officers arrested a man in the area shortly after that.
Friday's detention comes after the July 7 arrest of another man suspected of carrying out the attacks on transients, setting two of them on fire. He was released from jail Monday and not charged with any crime.
___
8:32 a.m.
San Diego police have detained a person in the investigation of attacks on homeless men that have left three dead.
Capt. David Nisleit tells KNSD-TV (http://bit.ly/29DwrxF ) that the person was detained early Friday after a new attack on a sleeping man.
Officers responding to screams found a 55-year-old man with significant trauma to his upper torso.
No information about the detained person has been released.
Friday's attack would be the fifth in the series that began July 3.
Earlier this month, police arrested a man in the case, but no charges were filed and he was released.