Texas shooting suspect says he avoided shooting students he liked to 'have his story told,' affidavit says
New details emerged Friday night about the Santa Fe High School shooting suspect, who admitted to opening fire and told why he avoided shooting certain students, according to a probable cause affidavit and complaint that identified charges against him.
The suspect, Dimitrios Pagourtzis Jr., 17, was charged with capital murder of multiple persons and aggravated assault against a public servant, according to the document.
Pagourtzis "surrendered" to authorities after coming out of an art classroom at the school, the document said, and was brought to the Santa Fe Police Department where he was advised of "and later waived his Miranda Warning."
AFTER TEXAS SCHOOL SHOOTING LEAVES 10 DEAD, HUNT FOR EXPLOSIVES CONTINUES
The suspect was then interviewed and "he gave a statement admitting to shooting multiple people inside" the high school "with the intent on killing people," the document said. Pagourtzis also said "he did not shoot students he did like so he could have his story told," according to the document.
Pagourtzis also said he wore a trench coat and carried a Remington 870 shotgun and a .38 caliber pistol, according to the document.
Hours after the deadly shooting that left at least 10 people dead unfolded, hundreds of mourners gathered for a vigil held in honor of the victims.
Among those in attendance were Dr. Leigh Wall, the superintendent of Santa Fe Independent School District, Sen. Ted Cruz and Gov. Greg Abbott.
TEXAS SCHOOL SHOOTING SUSPECT DIMITRIOS PAGOURTZIS WORE 'BORN TO KILL' SHIRT, POSTED ABOUT GUNS, REPORT SAYS
"No child, no parent, no student, no community should ever have to go through this again," Abbott said, adding that he and the entire state were "not here today and gone tomorrow," but would remain until "normalcy," as well as "safety is returned to your schools."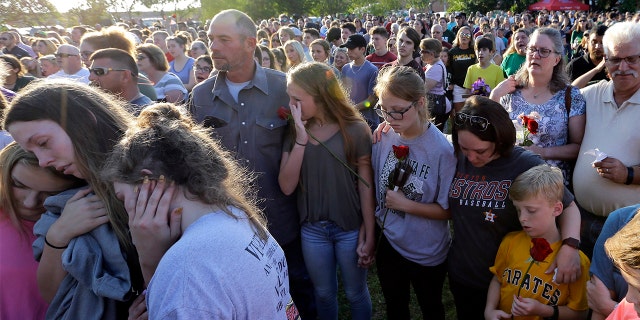 He also talked about his own experiences with challenges in life, speaking about the accident that caused him to need a wheelchair.
"I know the anguish so many families are facing today," Abbott said. "What allowed me to rise up from having my life broken in half, is the very same thing that will repair and restore the fractured families today."
Cruz took the podium, telling the crowd of people that "tonight, all of Texas is grieving."
TEXAS HIGH SCHOOL GUNMAN IN CUSTODY IDENTIFIED: AP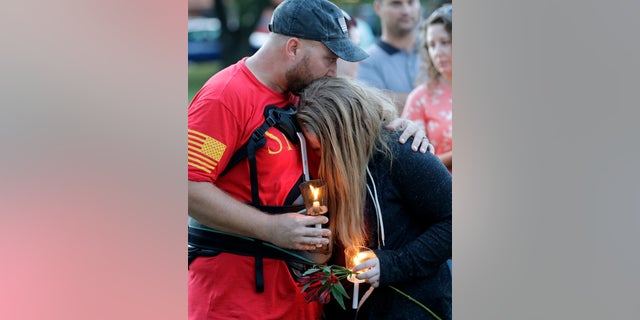 "None of us knows why there's evil in the world," Cruz said. "But this community has seen it – has seen the face of unmitigated evil. Has seen the face of hatred but let me encourage you, in spite of that evil, the community has also seen strength. This community has also seen love. This community has also seen courage."
Every school in the Santa Fe Independent School District will be closed on Monday and Tuesday, according to a Facebook post from the district. They added that more school counselors and other resources will be available because they know "students and staff are going to need counseling to help them grieve" and "need an outlet to share their fears and concerns."
Fox News Raymond Bogan, Lee Ross and Matt Richardson contributed to this report.