Texas man gets life in prison for killing college student after her charred, dismembered body found in kiddie pool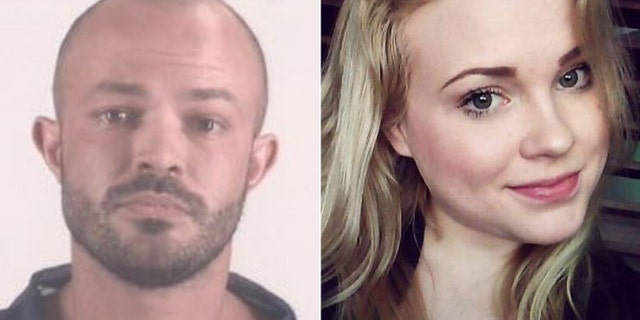 A Texas man was sentenced to life in prison on Monday after a jury convicted him of killing a female college student whose body was found inside of a kiddie pool dismembered and charred, with her heart cut out.
Charles Dean Bryant, 31, was found guilty of murder in the death of 24-year-old Jacqueline Vandagriff, whom he had met at a bar in September 2016, KXAS-TV reported.
'KINKY SEX,' NOT MURDER, CAUSED COLLEGE STUDENT'S DEATH, LAWYER SAYS
Bryant was also sentenced to 20 years in prison for tampering with evidence. The sentences will be served concurrently.
Bryant's defense attorney, Glynis McGinty, argued that Vandagriff, who was a student at Texas Woman's University in Denton, died accidentally during "kinky" consensual sex with Bryant.
The lawyer said a plastic tie was placed around Vandagriff's neck, causing asphyxiation, and Bryant panicked. Prosecutors argued that there's no evidence Bryant and Vandagriff had sex.
Bryant, according to McGinty, then disposed of the 24-year-old's body — "He went to Walmart at 4 a.m. and bought a shovel and goes back to his house where he had left Jackie and tried to dig a hole but the earth was too hard" — but he did not commit murder.
BINGHAMTON UNIVERSITY CANCELS CLASSES AFTER SECOND STUDENT MURDER IN 5 WEEKS
Prosecutor Lucas Allan countered that Bryant didn't "freak out" because Vandagriff died, but that he deliberately killed her and calmly dismembered her body while cutting out her heart.
"Why cut out the heart? What does it have to do with disposing of a body? He cut her heart out," Allan told jurors on Monday, according to the Fort-Worth Star Telegram. "I want that image to sink in."
Vandagriff was found dead on Sept. 14, 2016, in Acorn Woods Park near Grapevine Lake, roughly 30 miles northwest of Dallas. Her body, according to an arrest affidavit, was found inside of a kiddie pool, and firefighters determined that an "accelerant" was used to start the fire.
The college student had reportedly met Bryant at a bar in Denton and went to a second bar before leaving together. Her cell phone was traced back to Bryant's home, and her purse was found in his trash, The Dallas Morning News reported, citing a police affidavit.
Court records show Bryant had been arrested twice in early September 2016, just a week before his date with Vandagriff, for allegedly stalking his teenage ex-girlfriend, who told police she had seen a blue kiddie pool in his backyard.
FRAT BROTHERS PLEAD GUILTY, RECEIVE JAIL TIME IN FLORIDA STATE HAZING DEATH
The jury deliberated the sentences for about an hour Monday afternoon. The same jurors convicted Bryant earlier Monday after less than three hours of deliberation.
Bryant's attorney sought a 20-year sentence for his client.
Fox News' Caleb Parke and The Associated Press contributed to this report.