Texas, Louisiana slammed by hurricane-force winds, tornadoes
The weather also forced several school districts, including Dallas and Fort Worth, to cancel after school activities
Tornadoes and a powerful storm system pummeled parts of Texas and Louisiana Thursday, leaving tens of thousands without power.
Tornado warnings issued for the Dallas-Fort Worth area expired by late afternoon, but strong winds and hail continued, according to the National Weather Service.
More than 10 million residents across North Texas, southern Oklahoma and southwestern Arkansas were under a tornado watch Thursday evening, according to FOX Weather. Further south in Texas, around San Antonio and Austin, hurricane-force wind gusts were reported.
SEVERE WEATHER OUTBREAK UNDERWAY IN SOUTH AS TORNADOES, HURRICANE-FORCE WIND GUSTS REPORTED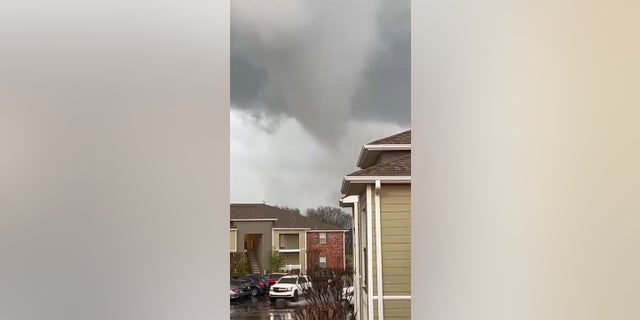 A twister hit the ground about 100 miles east of Dallas, near the small town of Fouke and moved northeast toward Texarkana at 55 mph, the weather service said.
Nearly 350,000 people in Texas had no electricity as of Thursday evening, according to poweroutage.us.
YOSEMITE NATIONAL CLOSED INDEFINITELY AMID EXTREME WEATHER ONSLAUGHT
Dallas Mayor said maps from Oncor Electricity Delivery Company showed 110,000 customers in Dallas County alone were without power as well as 42,000 in Collin County. More than 4,700 in northwest Louisiana were without power.
He noted that Oncor was not an agency of the City of Dallas and serves across the region.
Several school districts, including Dallas and Fort Worth, canceled after-school activities and events because of the forecast.
HALF OF CALIFORNIA NO LONGER IN DROUGHT AFTER TREMENDOUS AMOUNT OF RAIN, SNOW HIT THE STATE LAST YEAR
The power outages, meanwhile, have forced the cancelation of hundreds of flights into and out of Dallas. FlightAware.com reports Dallas-Fort Worth International Airport and Dallas Love Field Airport have tallied more than 400 cancelations in total.
Further east, in Louisiana, a tornado touched down near Louisiana State University in Shreveport. The National Weather Service tweeted footage of an earlier tornado near Bert Kouns. The service noted that storms into the evening will "continue to be capable of producing short-lived tornadoes."
"Be prepared to take cover in advance of storms and when Tornado Warnings are issued," the Service tweeted.
"This is the same system that struck California and it's now in New Mexico and will be crossing Texas and then Arkansas," said Rich Thompson, lead forecaster for the Storm Prediction Center in Norman, Oklahoma.
He said high winds and large hail posed the greatest threats.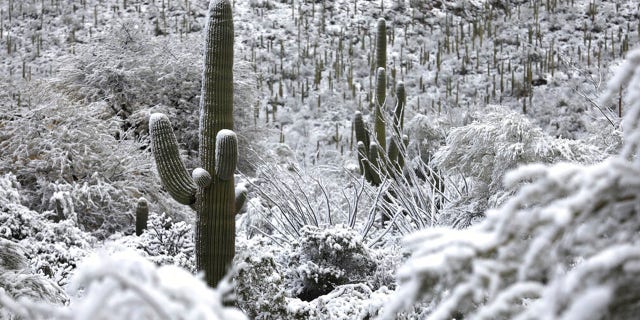 Meteorologists say the storm produced a "once-in-a-generation" snow in California and Oregon with up to 7 feet accumulating in spots.
CLICK HERE TO GET THE FOX NEWS APP
The snowfall, however, is credited with helping reduce, and in some areas eliminate, drought conditions in California.
The Associated Press contributed to this report.