Tennessee father on desperate search for wife, daughters in midst of wildfires
A Tennessee man was on a desperate search for his wife and daughters after wildfires engulfed his home and other buildings in the region this week.
Michael Reed told WATE-TV on Tuesday that he had not heard from his wife Constance or their two girls, ages 9 and 12, since talking to them on the phone Monday.
"We are just hoping for a miracle," Reed said.
Reed, of Gatlinburg, heard about the fires and was driving back to his home with his son when the two got stuck and traffic and were forced to turn around.
He said that when he last spoke to his wife, he urged her to call 911. She said she saw flames across the street from her home. Reed said that he and his son have scoured shelters in Gatlinburg but haven't found them.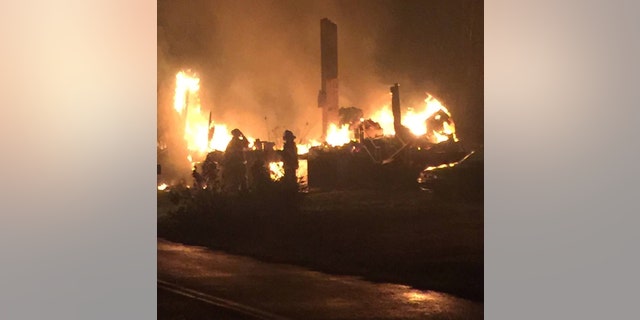 Reed told the station that he and his son had visited their home only to find it destroyed. But there were signs that his family got out of the house in time.
Gatlinburg was one town of many that was being affected by the raging wildfires in the Great Smoky Mountain region of the state. The fires spread quickly Monday night, which caught most of the region by surprise.
Police banged on front doors and told people to get out immediately. Some trekked 20 minutes to catch lifesaving rides on trolleys usually reserved for tours and wedding parties.
"There was fire everywhere. It was like we were in hell," said Linda Monholland, who was working at Park View Inn in Gatlinburg when she and five other people fled on foot. "Walking through hell, that's what it was. I can't believe it. I never want to see something like that again in my life, ever."
"Hell opened up," her co-worker Sissy Stinnett said.
Authorities in Tennessee announced Wednesday that four people had died, about four dozen people were hurt and more than 14,000 were evacuated from Gatlinburg alone. At least 250 buildings were damaged or destroyed.
Officials with Dollywood, the amusement park named after country music icon Dolly Parton, said the theme park wasn't damaged, but more than a dozen cabins operated by the park had been.
Dollywood suspended park operations at least through Wednesday. Its DreamMore resort will be open on a limited basis as a shelter and for registered guests.
Authorities said that at least three Gatlinburg-area resorts have been destroyed by the fires: The Black Bear Falls log-cabin rental resort, Ober Gatlinburg amusement park and ski area and the Westgate Mountain Resort & Spa.
Though wildfires have been burning for several weeks across the drought-stricken South, with rainfall 10 to 15 inches below normal over the past three months in many parts, Monday marked the first time any homes and businesses were destroyed on a large scale.
The fire that roared through Gatlinburg actually began last week in the national park, and fierce winds carried burning embers into the city, park officials said. That original fire is believed to have been caused by people, national fire managers said in a report. Whether it was intentionally set or an accident hasn't been explained by authorities.
After the fire escaped the park, flames spread further when winds blew trees onto power lines, sparking new fires and shooting embers over long distances. Hundreds of homes and other buildings, including a 16-story hotel, were damaged or destroyed.
Emergency officials ordered evacuations in downtown Gatlinburg and Pigeon Forge and in other areas of Sevier County near the Great Smoky Mountains.
About 1,200 people took shelter at the Gatlinburg Community Center and the Rocky Top Sports Park, an 80-acre sports facility-turned-shelter.
Tammy Dillon had just come home from work when police banged on her door about 9:30 p.m. Monday. She said she drove through a fiery scene to get to Rocky Top Sports World, where she spent the night in a car.
"We drove through flames, over hot embers in the road. It was awful," Dillon said.
The Red Cross is accepting donations for responses to disasters like the fire. You can donate by clicking here or by texting "REDCROSS" to 90999.
The Associated Press contributed to this report.