Tampa serial killer suspect used same gun in 4 killings, police say
The suspect in the serial killings spanning a 51-day period that terrorized a Tampa neighborhood used the same gun in four killings, but had "no apparent motive," the city's top law enforcement official said Wednesday.
The suspect, 24-year-old Howell Emanuel Donaldson III, admitted he owned the gun that was turned over to police Tuesday and that cracked the case, but did not admit to the killings, Tampa Police Chief Brian Dugan said at a news conference.
"He was cooperative, but did not tell us why he was doing this," he said.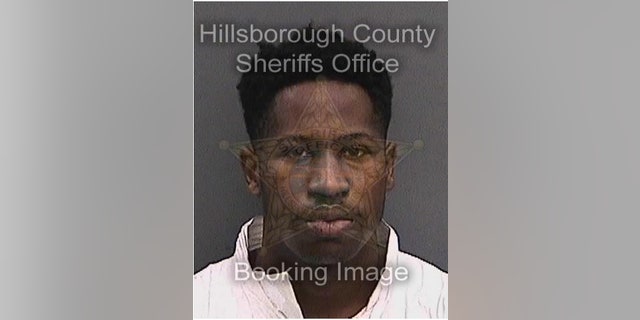 Donaldson was arrested at a McDonald's in Ybor City based on a tip given to Tampa police after he brought the loaded gun to his job at the restaurant and asked a co-worker to hold it. The employee then told her manager about the gun, who alerted a Tampa police officer at a table in the restaurant, according to an arrest report.
TAMPA SERIAL KILLER VICTIM REMEMBERED AS 'SUPERMAN OF SERVICE'
When Donaldson returned to the McDonald's, police were waiting for him and took him into custody. Dugan praised the tip from the employee on Wednesday.
"The person who called us, I cannot thank them enough for standing up and doing the right thing and saying 'this doesn't seem right, why does this person have a gun in a bag?'" Dugan told reporters.
The police chief said the gun, a .40-caliber Glock, was the missing evidence authorities needed to connect the killings to the images previously released from surveillance video of the suspect leaving the area.
"The gun is what we needed," Dugan said at a news conference surrounded by family members of the victims.
Donaldson told investigators he was unfamiliar with the Seminole Heights neighborhood where the shootings occurred. He then asked for an attorney, but arrest records don't list one and the police chief said he didn't know if he had a lawyer yet.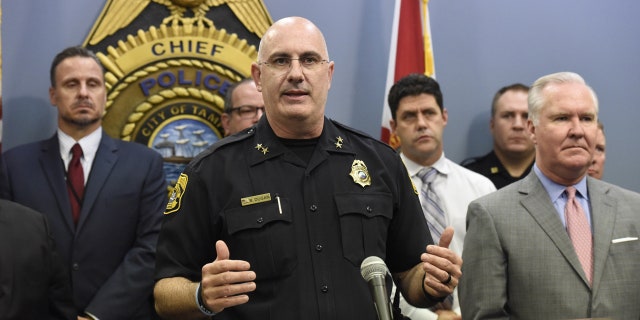 "I don't think he wanted to get caught," Dugan said, adding that Donaldson gave the gun to his co-worker at McDonald's for "safe keeping." He allegedly told the co-worker that he wanted to leave the state, FOX 13 Tampa reported.
The Florida Department of Law Enforcement and ATF analyzed the fired cartridge casings in all four murder scenes, and determined the casings were fired from the same firearm: a Glock .40-caliber handgun, according to the affidavit.
A search of Donaldson's cellphone found location data that indicated three days of recorded times and activities corresponding with the first three shootings on Oct. 9, Oct. 11 and Oct. 19, FOX 13 reported, citing the arrest report.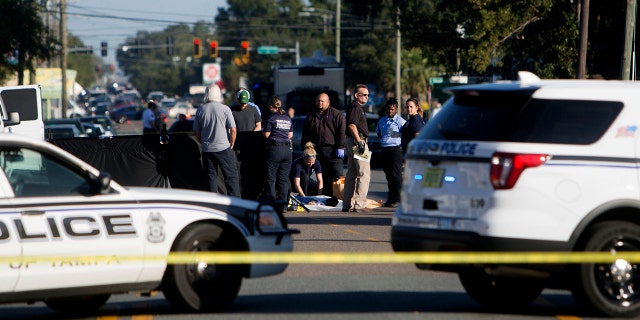 Donaldson agreed to allow authorities to search his car and they found a suspected blood stain on clothing, the affidavit said.
"You know, 51 days ago I said this was a struggle between good and evil, well now, goodness has won,"  Tampa Mayor Bob Buckhorn said.
Donaldson had a brief stint at St. John's University in New York, where he was a walk-on player in the 2011-12 season for the Red Storm basketball team, school sources told The New York Post. He did not play in any games, according to the newspaper.
TAMPA POLICE RELEASE NEW SURVEILLANCE FOOTAGE OF SUSPECT IN FOUR SEMINOLE HEIGHTS KILLINGS
Residents in working-class Seminole Heights have been on edge since Oct. 9, when 22-year-old Benjamin Mitchell was shot to death. Two days later, 32-year-old Monica Hoffa was slain. And on Oct. 19, Anthony Naiboa, 20, was killed after taking the wrong bus home from his new job.
Florida Gov. Rick Scott said Wednesday that he was happy "no one else got hurt," adding that his heart went out to "these poor families" who lost loved ones.
The latest victim to be gunned down was remembered by family and friends Saturday for his passion for helping others. Ronald Felton, 60, was shot dead Nov. 14 as he was walking to volunteer at a food pantry in Seminole Heights.
"If you knew him, you seen his caring service. He was the Superman of service," one man said at Felton's memorial service, FOX 13 reported. "I was the supervisor at the food bank, but he was the one in charge."
All of the October victims were either getting on or off a city bus, or were at a bus stop when they were shot dead, police said.
Dugan said the department had received more than 5,000 tips. He thanked those who called in the tip that led to Donaldson's arrest.
The Associated Press contributed to this report.