Suspected drunk driver cruises car into lake to flee Texas police, video shows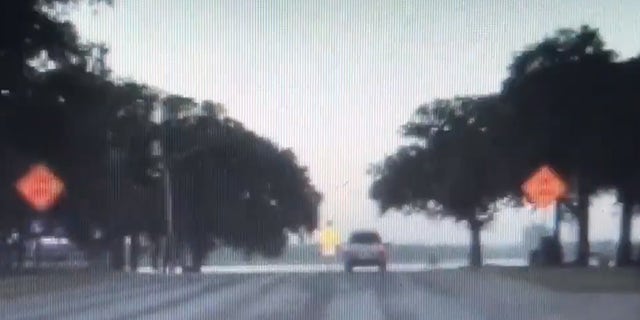 A dramatic video showed the moments a suspected drunk driver attempted to flee Texas police Friday by driving his SUV into a lake then attempting to swim away.
The Arlington Police Department released the dashcam video footage of the brief police chase that ended with a splash, FOX4 reported.
TEXAS MOM ACCUSED OF KILLING 2 KIDS HOURS AFTER DEPUTIES VISIT HOME
The Star-Telegram reported a person approached an officer to tell them they suspected a drunk driver might have hit their vehicle twice. The officer discovered the suspect's car before it drove away, the department said.
The officer dashed after the vehicle and a police chase ensued. The grey SUV turned a few blocks before it drove straight into Lake Arlington, the dashcam video showed. The suspect then escaped through his car's window and attempted to swim to the other side of the lake.
TEXAS POLICE SEARCHING FOR PANHANDLER ACCUSED OF ROBBING, BEATING 77-YEAR-OLD MAN
Officers met the suspect at the dock where he was arrested, police said. Officers checked the man's vehicle where they found drugs inside.
Daniel Basham, 40, was arrested and faces charges of "driving while intoxicated, evading arrest and detention in a vehicle and possession of a controlled substance," the Star-Telegram reported.