Suspected drunk crane driver causes path of destruction on New York's Long Island Expressway, police say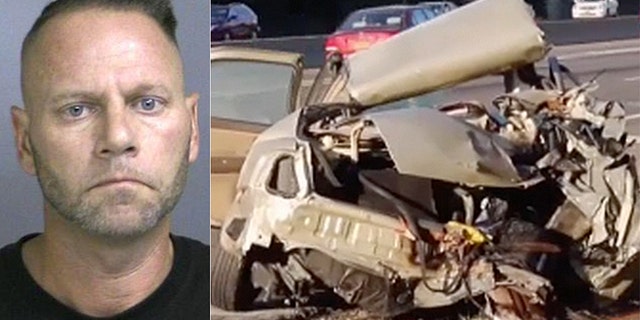 A suspected drunk crane driver's nine-mile path of destruction during rush hour on New York's busy Long Island Expressway came to an end Tuesday when a police officer jumped into the passenger side of the vehicle to get him to stop, officials said.
The Suffolk County Police Department said that Brian Sinclair, 47, was driving a 2000 Liebherr crane eastbound on the Long Island Expressway when the crane first crashed into a 1999 Nissan Altima around 6:20 p.m. in Ronkonkoma, located about 50 miles east of New York City.
After hitting the first vehicle, police said Sinclair then struck a 2015 Jeep Cherokee, 2008 Honda Civic and 2018 Toyota RAV4 that were all traveling eastbound at the time. He then fled the scene and continued driving erratically for nine miles until he was spotted by Highway Patrol Officer Joseph Goss.
Authorities said the crane slowed down enough for Goss to make a jump into the passenger seat, and order the 47-year-old to stop.
"I thought he was going to crash and kill somebody," Goss said Wednesday at a news conference, according to ABC7. "We've had a lot of bad accidents on the Long Island Expressway in the last couple weeks with the heavy summer traffic, so I was absolutely concerned. My primary goal was getting that car stopped and just keeping other motorists away from him, because if he made a slight contact, it would just shred their car apart."
Goss said that only thing Sinclair said to him during the entire encounter was "What's up?"
Police said that Sinclair, of Riverhead, was arrested and charged with driving while intoxicated and leaving the scene of an accident. The crane involved in the multi-vehicle crash was impounded.
FLORIDA MAN, 72, TRIES TO MOW DOWN NEIGHBOR WITH TRACTOR DURING DISPUTE, COPS SAY
The driver of the Nissan, a 26-year-old man, was taken to Stony Brook University Hospital with minor injuries, according to police. The drivers of the Honda and Toyota, a 22-year-old female and 53-year-old male, respectively, also had minor injuries and were taken to Southside Hospital in Bay Shore.
It wasn't the first time the officer who stopped the crane jumped into a moving vehicle. In December 2016, when an impaired driver with a toddler in the backseat of a Ford Taurus refused to pull over on the same highway, Goss ran alongside the sedan as it moved at about 5 mph, Newsday reported.
"I didn't like the idea of doing it," the officer said at the time, "but the opportunity was there."