Surveillance video outside FOX 4 in Dallas shows moment man repeatedly plows truck into building
Newly released surveillance video shows the moment a man crashed his truck repeatedly into the side of the FOX 4 studios in Dallas early Wednesday in an apparent attempt to draw attention to an officer-involved shooting that happened six years ago.
Michael Chadwick Fry, 34, repeatedly crashed into the large windows near the entrance of the building in downtown around 6 a.m. just before the station's morning show took to air, smashing several of them, police say.
In a video released by FOX 4, the truck driven by Fry can be seen slowing to a halt before rapidly accelerating and turning into the building.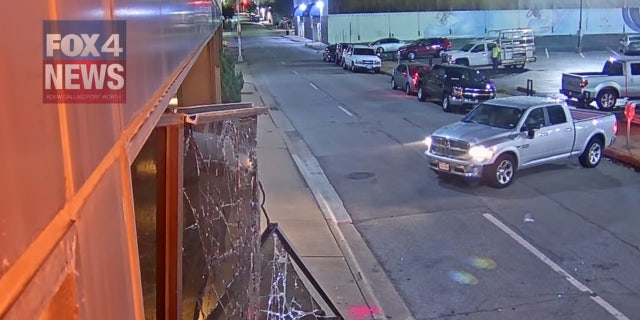 The truck then reverses, dragging a crumpled floor-to-ceiling window on the sidewalk, before speeding again into the building. After striking the building, Fry got out, "started ranting" and placing numerous boxes with stacks of paper around his truck.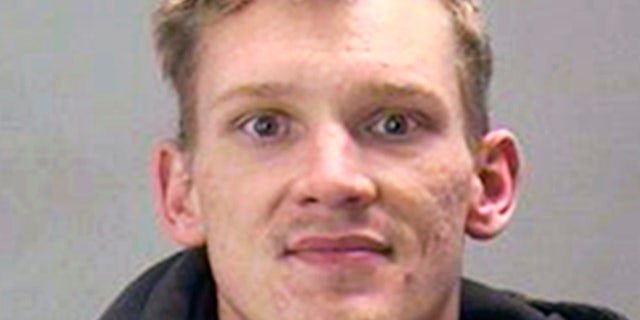 "Originally when he was in the bed of the truck he was yelling out 'High treason! High treason!' As he got over to the window, he was trying to explain something that involved the Denton County Sheriff's Department," FOX 4 reporter Brandon Todd recalled after watching the scene unfold. "He is claiming that someone tried to kill him and ended up hitting a relative of his and so he was wanting justice, I think. But also at some point, he was saying, 'And they're coming for me. They're coming after me trying to kill me.'"
MAN INTENTIONALLY CRASHES TRUCK INTO FOX 4 STUDIOS IN DALLAS, STARTS 'RANTING' BEFORE ARREST, OFFICIALS SAY
No one inside the building was hurt, and Fry was taken into custody without confrontation with police. He now faces charges for felony criminal mischief.
The 34-year-old has a lengthy criminal history that includes arrests for assault, disorderly conduct, public intoxication, DWI and burglary in neighboring Denton County, according to FOX 4.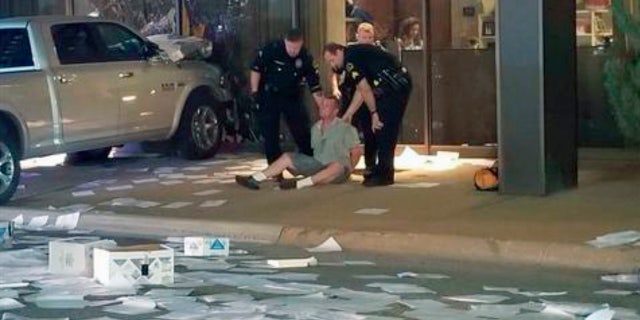 Dallas Police Major Max Geron reported on social media that Fry had "mental issues" and wanted to bring media attention to the 2012 fatal shooting of an acquaintance, Roberto Hernandez, by a sheriff's deputy in Denton County, northwest of Dallas. Authorities said the deputy shot and killed Hernandez after he rammed a patrol vehicle, and that Fry was in the car with Hernandez at the time.
One of the scattered papers shows handwritten notes on an article about the 2012 shooting. Part of the notes said "They tryed (sic) to kill me. And they missed. And hit him."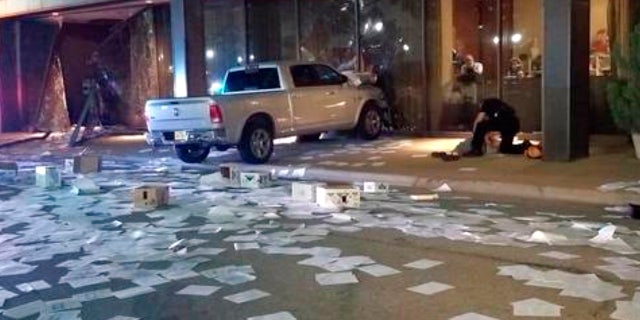 When he was being taken into jail, Fry told reporters he crashed into the FOX 4 building to get attention for the shooting, and was not making any threats against the television station.
"I just wanted to summon the cavalry," he said. "To get the power of the people and the media to do their job."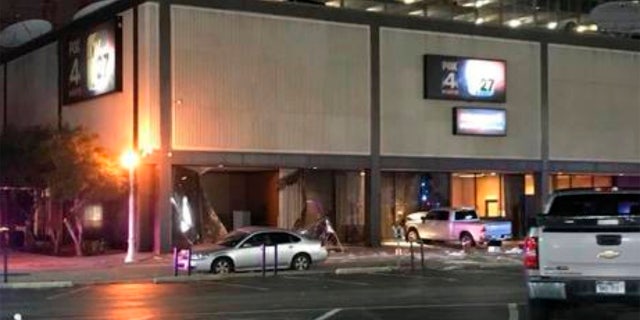 A woman who told FOX 4 she's known Fry since he was 12 said his behavior has always been a concern.
"He's been a trouble maker. It's just the way he was," Kim Knowler said. "I think every neighborhood has one. He was ours for sure."
The Associated Press contributed to this report.