SEE IT: Photos show destruction from 6-hour prison standoff — 'Wouldn't have happened if there were locks'
Inmates cause $200,000 in damages after launching a standoff with officers at a Massachusetts county jail
A Massachusetts sheriff's office released photos Tuesday showing the aftermath of a six-hour jail standoff between inmates and staff after the facility attempted to relocate inmates during renovations.
"They did not want to move to a different housing unit," Bristol County Sheriff's Office spokesman Jonathan Darling told Fox News. "We stressed that nothing would change."
"They would still have the same recreation time, still have the same visitation schedule, but they did not want to move, thus the standoff," he continued.
The standoff at Bristol County House of Correction started Friday morning after inmates refused to be relocated so the jail could add toilets, door locks and suicide-resistant bunk beds. Correctional officers abandoned the relocation effort as tensions started to rise and left the area to avoid becoming hostages, locking the door behind them.
SEE THE DAMAGE FROM THE STANDOFF BELOW:
WATCH MORE FOX NEWS DIGITAL ORIGINALS HERE
Soon after, the inmates began to trash the facility. The prisoners caused hundreds of thousands in damages and made weapons out of sharpened furniture and other items.
"The next steps are 1) documenting all the broken items and damage and bringing charges against the inmates; and 2) having our facilities team start planning repairs," the Bristol County Sheriff's Office posted to Facebook along with more than 40 photos showing damages throughout the facility.
Since it's illegal in Massachusetts to lock inmates in cells without toilets, the jail hoped to add facilities to the cells so locks could be installed, according to Darling.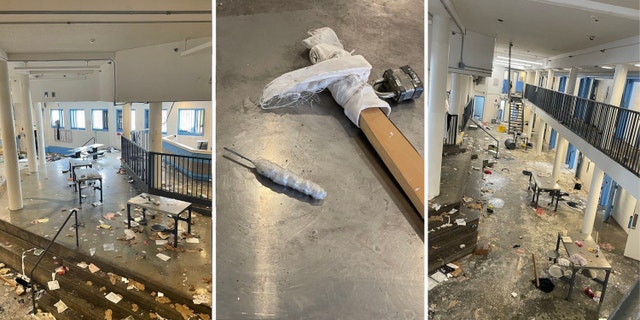 "If there were locks on the doors, the risk of this happening would have been far lower," he said. "Being able to go into lockdown or lock the inmates in the cells would have helped quell the disturbance before it started."
LA COUNTY'S PROPOSAL TO 'DECARCERATE' JAIL POPULATION WITHDRAWN AFTER PUSHBACK FROM PUBLIC, LAW ENFORCEMENT
The photos the sheriff's office released showed broken locks, door windows, furniture, scattered trash and other damages.
During the standoff, inmates made a list of demands to the jail staff, including specific magazines, cheaper canteen prices, more vocational and substance abuse programming and televisions in cells.
NEW PRISON DATA BLOWS UP NARRATIVE THAT LOW-LEVEL DRUG OFFENDERS ARE FILLING UP US PRISONS: EXPERTS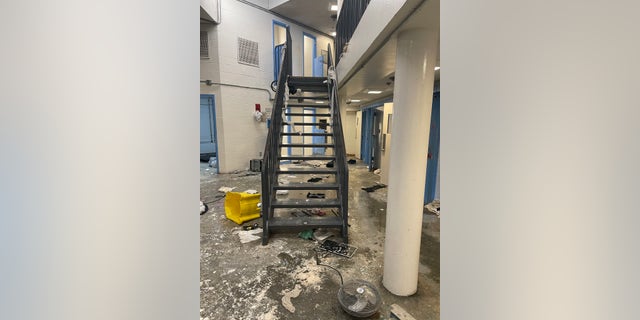 "The Sheriff responded to each of their demands in writing, saying that most of what they wanted were changes he campaigned on and was going to institute, such as more programs," Darling said. "When the inmates received his written response, they tore it up and threw it out the window."
MASSACHUSETTS MAN PLEADS NOT GUILTY TO MURDER CHARGE, INJURING 22 OTHERS IN APPLE STORE CRASH
The sheriff's office said additional reinforcements were needed to minimize injury risks to officers and inmates.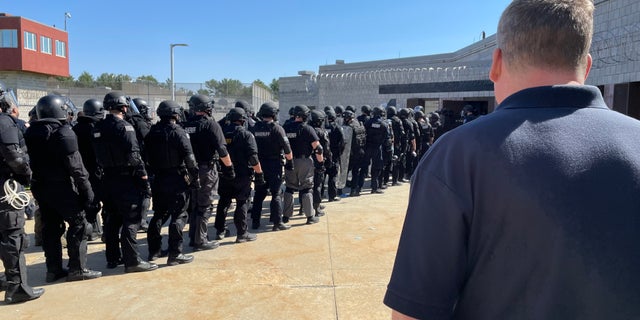 "We tried to de-escalate the situation through an open dialogue, then waited until additional officers arrived from across Massachusetts," the office posted. "We likely could've taken back the unit without waiting for more help, but officers or inmates likely would have been injured."
"The top priority was to make sure every officer went home to their families that night, and if that means waiting 6 hours, so be it," it added.
MARYLAND PRISONS FACE SEVERE STAFFING SHORTAGE
Darling said the officers, while planning their response, were concerned about the inmates' weapons.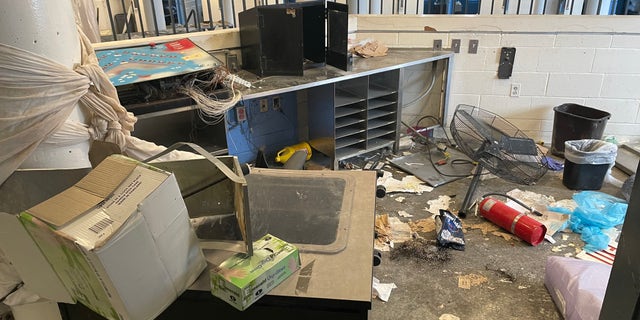 "They created weapons and wanted to use them on officers or on each other including shanks and socks with locks and doorbells in them," Darling said. "We knew that they had some weapons so that was part of our concern when planning on what actions we were going to take."
GEORGIA JAIL TRANSFERS 600 INMATES AFTER MAN ALLEGEDLY EATEN ALIVE BY INSECTS
About 130 to 150 officers were involved in ending the standoff and used flash bangs and pepper spray to restore control.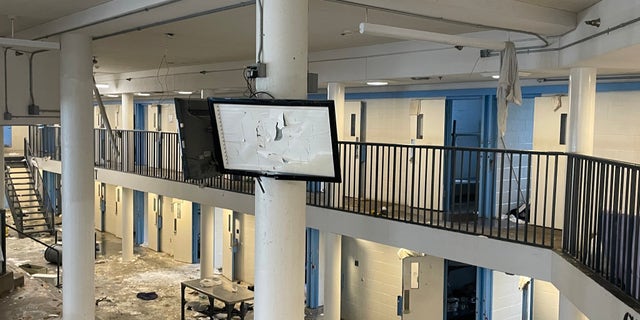 The inmates are expected to be charged with destruction of property, according to Darling. In total, the standoff caused about $200,000 in damages in two housing units that host between 70 and 75 men each.
CLICK HERE TO GET THE FOX NEWS APP
"Ultimately, the funds [for repairs] will come from our budget or the state Department of Capital Asset Management," Darling told Fox News. "We will seek restitution from the inmates who face charges in connection with the standoff."
The inmates involved were moved to other cells in the facility or to jails in other counties.
Click here to see more damage from the Bristol County House of Correction standoff.