Search for Ohio mom offers no clear answers, as boyfriend mysteriously disappears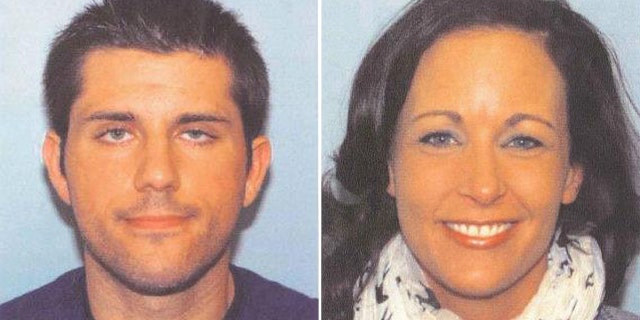 Businesses in the hometown of an Ohio woman who disappeared during a North Carolina vacation are offering more than $7,000 in rewards for information about the whereabouts of the woman or her boyfriend.
Authorities say 33-year-old Lynn Jackenheimer of Ashland went to the Outer Banks of North Carolina last week with her boyfriend, Nate Summerfield, and her two children, but didn't return with them. Summerfield's brother called police to say Summerfield told him he strangled the woman.
Police said Summerfield, 27, returned his girlfriend's children to Ohio Sunday and left them with his family. He then withdrew money from an ATM, ditched his cellphone along a road in Ashland County and vanished, Fox8.com reported.
As of late Tuesday, authorities said they had no solid evidence a crime was committed, the report said. Though authorities acknowledge that as more time passes without finding her, the more troubling the case becomes.
"It's hard. The longer it goes the worse it is," Carl Richert, the captain from Ashland Sheriff's Department, said. "It's frustrating for us because we are trying to do everything we can."
Dare County Sheriff's Office in North Carolina, where the couple vacationed, said it's assisting in the investigation.
Steve Hoggard, the chief deputy of the Dare County Sheriff's Office, told FoxNews.com that authorities have been searching beaches and roads where the couple recently stayed.
Hoggard described some beach areas as challenging because of the thick scrub brush in some areas.
"Some of these beaches are perfect spot to dump something you don't want somebody to find," he said. He said local authorities are keeping an eye out for the person of interest and trying to contact anyone who may know the couple, since they vacationed at the area a few times before.
An arrest warrant and affidavit for a temporary restraining order in December 2009 detail an argument in which Summerfield grabbed Jackenheimer "by her throat and choked her, Fox8.com reported. Then he allegedly pulled her to the floor and dragged her from the kitchen into the living room, then into the hallway by her neck."
The documents say "Lynn had red marks on her neck and scrapes on her forearms from trying to stop herself while Nathan was dragging her from room to room."
In hand written notes for the temporary restraining order they quote Jackenheimer as saying she is scared of the defendant "she said "it's hard telling what he would do to me.'"
Jackenheimer works at Beer Barrel in Ashland and did not report to work on Monday, Dean Emmons, her boss, said. He offered $1,000 of his own money as a reward to find Jackenheimer and Summerfield.
The two children, ages 3 and 13, are not much help with the investigation because they have been largely "kept in the dark" about a lot of things," Richert told Fox8.com. Relatives said the children understand their mom is missing.
"This morning they asked us to go find Mommy for them," said Raymond Johnson, Jackenheimer's stepfather. "[The 3-year-old] got up this morning wanting us to go find Mommy for him. He sits and cries wanting his Mommy. Give her back to him, would you please do the right thing Nate?"
Fox News' Edmund DeMarche contributed to this report