Scalise critical, shooter ID'd as James Hodgkinson
A gunman believed to be a supporter of former Democratic presidential candidate Bernie Sanders sprayed a hail of bullets at a GOP baseball practice in Alexandria, Va. Wednesday morning, critically wounding House Majority Whip Steve Scalise, R-La., and injuring three others before U.S. Capitol Police took him down.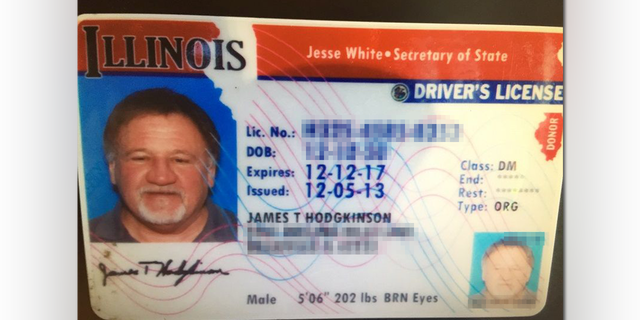 Scalise was in critical condition Wednesday afternoon, MedStar Washington Hospital tweeted. He had surgery after being shot in the hip and was initially said to be stable.
The shooter, who had a violent history including arrests for battery, resisting arrest and drunken driving, was identified as 66-year-old James T. Hodgkinson, of Belleville, Ill., Fox News confirmed.
FBI Special Agent in Charge of the Washington Field Office Timothy Slater said that investigators believed that Hodgkinson had been in Alexandria since March and had been living out of his van. Slater added that it was too early to tell if the attack was terror-related.
Sanders said on the Senate floor that the shooter "apparently volunteered on my presidential campaign" and added that he was "sickened by this despicable act.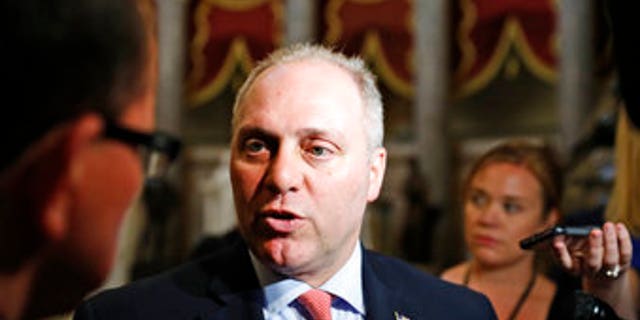 "Let me be as clear as I can be," Sanders went on. "Violence of any kind is unacceptable in our society and I condemn this action in the strongest possible terms."
President Trump addressed the nation late Thursday morning and revealed Hodgkinson had died after being shot by law enforcement.
"Congressman Scalise is a friend and a very good friend," Trump said in the White House address. "He's a patriot and a fighter. He will recover from this assault. And, Steve, I want you to know that you have the prayers of not only an entire city behind you, but the entire nation – and frankly the entire world."
Zack Barth, a congressional aide to Rep. Roger Williams, R-Texas, and Tyson Foods director of government relations Matt Mika were also injured in the incident. Mika was shot multiple times and was in critical condition, his family said in a statement.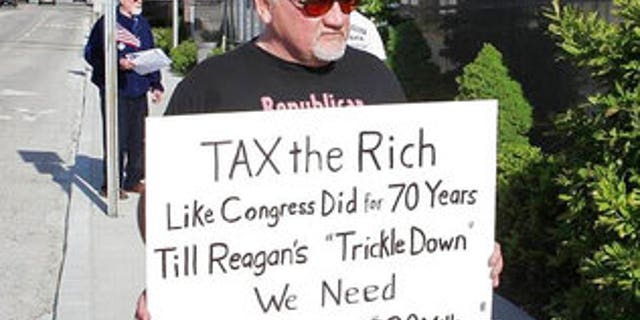 Williams tweeted that Barth was "doing well and is expected to make a full recovery."
Williams, who was injured after diving into the dugout, later told reporters on Capitol Hill about his experience.
"I literally dove into that dugout—like diving into a swimming pool with no water," said Williams. "Zack came running from the outfield and we landed in each other's arms—he held me, I held him.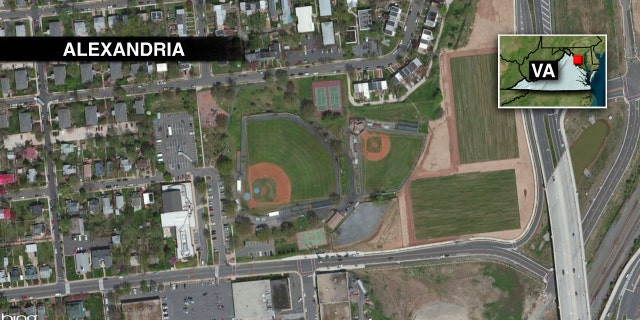 "Zack was texting the whole time, letting people know we were under fire and that we needed help."
U.S. Capitol Police said in a statement that Special Agent Crystal Griner was shot in the ankle. Another special agent, David Bailey, was treated and released from the hospital after suffering a "minor injury."
U.S. Capitol Police Deputy Chief Fred Rogers confirmed that Griner and Bailey were part of Scalise's protective detail. The 51-year-old is the third-highest-ranking House Republican, behind Speaker Paul Ryan and Majority Leader Kevin McCarthy.
Rep. Ron DeSantis, R-Fla., told Fox News he left just before the shooting. As he walked to his car, a man asked DeSantis if it was Republicans or Democrats practicing. About 3 minutes later, at around 7:09 a.m., the shooting began, DeSantis said. He later told Fox Business he believed the man who approached him was the shooter.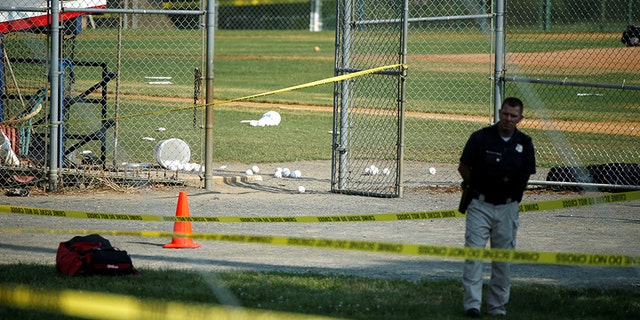 Sen. Rand Paul, R-Ky., described the chaotic scene to Fox News: "We were like sitting ducks."
"Without the Capitol Hill police it would have been a massacre," Paul said, calling the scene "sort of a killing field."
"Finally, the shooter was shot behind home plate as he was circling around to the first base dugout where there were a number of US congressmen and other folks," Rep. Mo Brooks, R-Ala., told FMTALK1065. "Our security detail was able to incapacitate him at that point. I don't know if he [the shooter] was dead. He was wounded. I don't know how many times he was wounded."
Brooks reportedly used a belt as a tourniquet to stop the bleeding of an aide who was shot in the leg.
Rep. Brad Wenstrup, R-Ohio, told Fox News he "felt like I was in Iraq, but without my weapon."
"Behind third base, I see a rifle...I hear Steve Scalise over near 2nd base scream," Brooks said. "...While all of this is going on, Steve Scalise our whip was lying on the ground near the second base position crawling into right field, leaving a trail of blood."
Brooks said the gunman was using the dugout as cover and estimated the assailant got off 50-100 shots during the attack on the 15-25 people gathered at the field.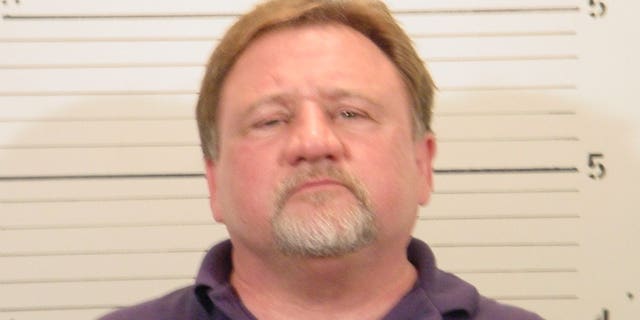 "We were there within 3 minutes," Brown said. "Two of our officers engaged in gunfire and returned fire."
The incident occurred at Simpson Field in Alexandria, about 10 miles from Washington D.C. The FBI was taking over the investigation because a federal official -- Scalise -- was assaulted in the attack.
"An attack on one of us is an attack on all of us," Ryan said in an address from the floor of the House of Representatives. His words were greeted by a bipartisan standing ovation from the gathered legislators.
Ryan added: "We are all one family. These are our brothers and sisters who were in the line of fire."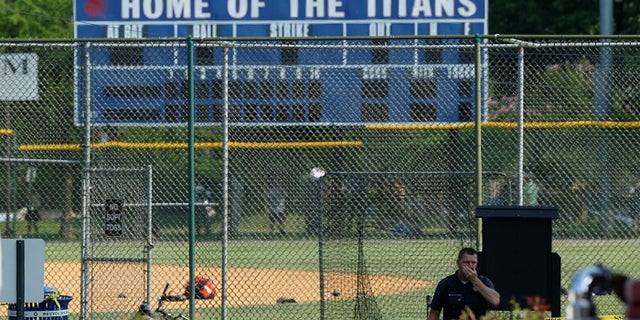 A man walking his dog at a park near the field told Fox News he heard police yelling at the gunman to put the gun down followed by someone in or around the dugout screaming back "Just shoot him."
Aside from Scalise, Williams, Paul, Brooks, Wenstrup and DeSantis, Sen. Jeff Flake and Reps. Mike Bishop, Jack Bergman, Chuck Fleischmann and Joe Barton were also at the field. A photographer and Bishop's aides were present, too.
Witnesses and residents described a shattered calm Wednesday morning in a normally peaceful neighborhood now plastered with police tape.
Reba Winstead, who lives in the area, described hearing a "boom boom boom boom." She said she was getting her daughter ready for school and then "all of a sudden there was gunfire in our neighborhood."
Scalise has represented Louisiana's 1st Congressional District since 2008. He is married with two children. Scalise's district includes part of New Orleans.
Scalise, who studied computer science at Louisiana State University, worked as a systems engineer before launching his political career. Scalise endorsed President Trump during last year's presidential campaign, and has been a vocal backer of Trump's travel ban.
The Congressional Baseball Game is scheduled for Thursday at Nationals Park. The game, which has been a tradition since 1909, pits Senate and House members of each party who sport the uniform of their home state.
Congressional leaders said the game would go on as planned.
Fox News' Chad Pergram, Garrett Tenney and Barnini Chakraborty contributed to this report.