Sandy's death toll at least 75 in US, as tales of tragedy and heroism emerge from devastation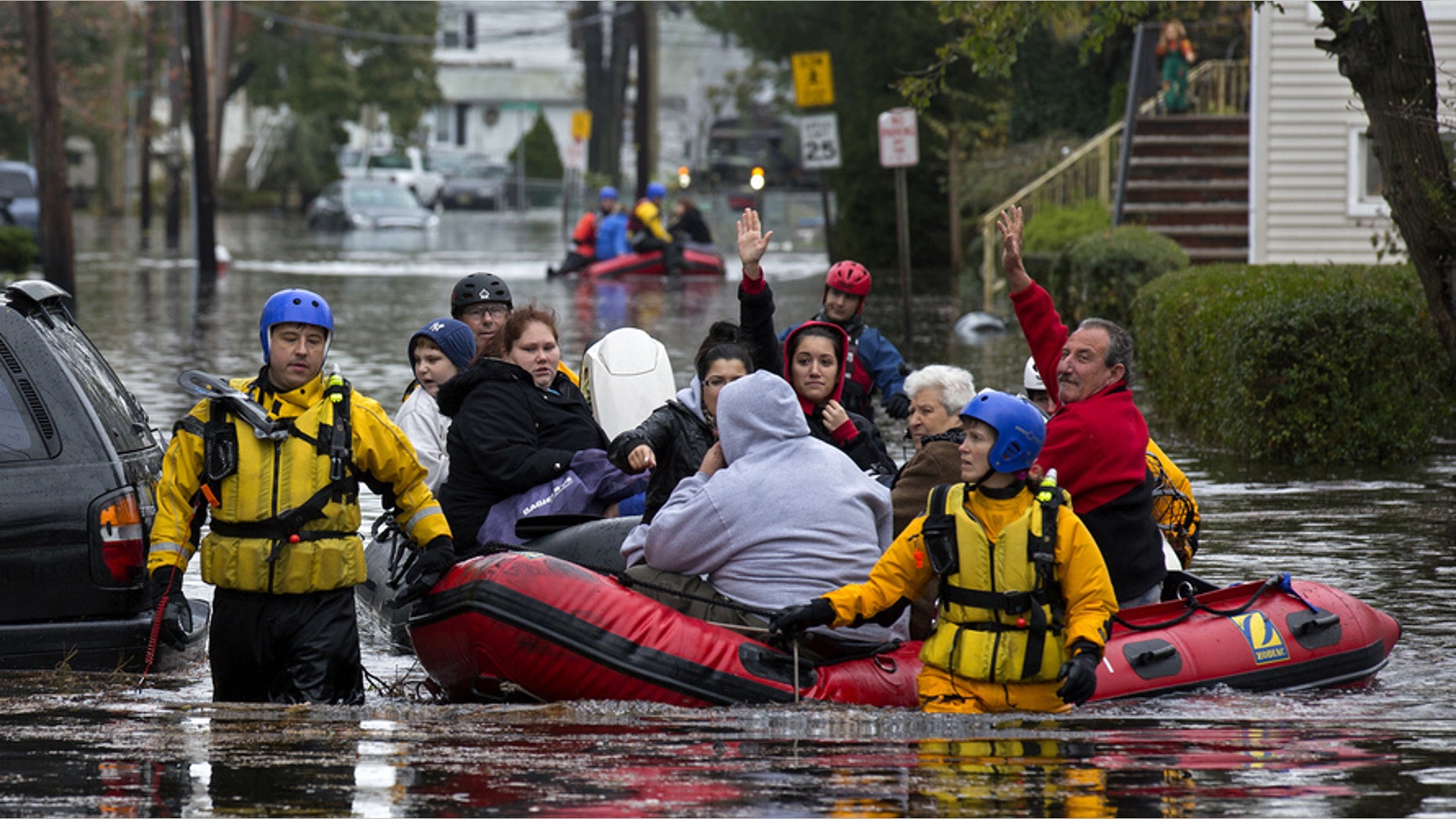 The death toll from superstorm Sandy is up to 75 in the United States and expected to keep climbing as workers comb through floodwaters, rubble and fallen trees in the more than a dozen states affected by the 900-mile-wide weather system.
As the cleanup began, stories of tragedy and heroism emerged. An 8-year-old Pennsylvania boy was crushed by a falling tree when he went out to check on the family's newborn calves. A New York police officer saved seven members of his family before drowning in raging floodwaters invading the family's basement. A Brooklyn couple died together when a tree fell on them as they walked their dog - which survived.
[pullquote]
"We will get through the days ahead by doing what we always do in tough times — by standing together, shoulder to shoulder, ready to help a neighbor, comfort a stranger and get the city we love back on its feet," New York Mayor Michael Bloomberg said.
Perhaps no story captured the drama and tragedy of Sandy better than that of NYPD police officer Artur Kasprzak. The 28-year-old drowned Monday night after rescuing seven members of his family, including his 15-month-old son, from the flood waters filling the basement of his Staten Island home. After getting them to safety by ushering them into the attic, Kasprzak went to the basement one more time but never returned, according to an NYPD news release.
Police responded to his family's desperate 911 call, but scuba divers who arrived in inflatable Zodiac boats and jet skis couldn't reach the home because of downed power lines snaking through the water.
"He was really a great guy, well-liked, very professional and hard working," Kasprzak's commanding officer, Deputy Inspector Edward Winski, told the Daily News. "It was very difficult this morning when I had to tell everyone. It's heart-breaking, to be honest with you."
A majority of deaths were caused by falling trees, surging floodwaters and downed electrical wires, especially in New York City, where at least 24 people have been found dead since Monday.
- Couple Jacob Vogelman, and Jessie Streich-Kest were walking their dog in the Ditmas Park section of Brooklyn on Monday evening when a tree fell on them.
- In Queens, a 70-year-old woman was found floating inside her home early Tuesday morning by police after relatives were unable to reach her. Also in Queens, Lauren Abraham, a 23-year-old makeup artist went to the end of her driveway to take pictures during the height of the storm on Monday and stepped into a puddle electrified by a downed wire.
- On Staten Island, officials were checking homes Tuesday afternoon when they found the bodies of John Filipowicz Sr., 50, and his 20-year-old son, John Filipowicz Jr. Both men were crushed by debris in their basement.
- Thirteen-year-old Angela Dresch was found dead after a massive wave slammed into her family's home on the south shore of Staten Island. her father, George is still missing, and her mother Patricia is clinging to life at Staten Island University Hospital.
- A 54-year-old man from Yonkers, N.Y., was killed instantly when his car struck a tree that had fallen on the Sprain Brook Highway in Westchester County. The impact caused his car to careen into the center embankment, knocking down several other trees.
Sandy took the lives of many in other states as well.
In the town of Pasadena, Md., near Annapolis, a man was killed after a tree fell on his house late Monday evening, just as the monster storm was making landfall.
Near Boston, in Peabody, Mass., a passenger in an SUV was killed after he was thrown from the vehicle as it rolled over and slammed into a guardrail. Two other passengers were ejected, but they and the driver survived.
In Franklin Township, Pa., 8-year-old Matthew Stahl went outside onto his family's farm to check on the calves. His father told him to run inside, but a falling tree killed the boy before he could reach safety.
In Hawthorne, N.J., a 77-year-old man was killed instantly when a tree crashed into his house.
Sandy's lethal reach even extended to Canada, where a woman was struck and killed by a sign that fell from a Staples store amid 40 mph winds.
The earliest casualties of superstorm Sandy were crew members of the "HMS Bounty" tall ship off the coast of North Carolina. Claudine Christian, 42, was knocked off the replica ship, which had been featured in several movies, and was found in the turbulent waters of the Atlantic four hours later. Search crews are still hunting for the ship's captain, Robin Walbridge, who is believed to be wearing a survival suit that can keep him afloat.
The 14 other members of the crew were safely rescued as the ship sank.