Boat capsizes off San Diego coast killing 3 in suspected smuggling operation
The incident happened around 10:15 a.m. Sunday near the Cabrillo National Monument
NEWYou can now listen to Fox News articles!
A boat off the coast of San Diego overturned Sunday morning, killing three people and injuring more than 20 others -- one critically -- in what authorities say was a smuggling operation.
On Sunday, authorities on site originally said four people aboard the boat had died. But on Monday the Coast Guard changed the death toll to three, citing information from the San Diego County Medical Examiner's office, according to Reuters. That revision brings the total survivors involved to 29.
The incident happened around 10:15 a.m. off Point Loma near Cabrillo National Monument. Lifeguards, the U.S. Coast Guard and other agencies responded to the scene after reports of an overturned vessel in the surf near the rocky peninsula.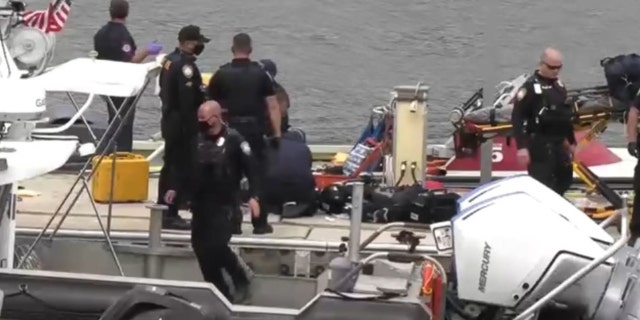 Authorities recovered three bodies in the surf, San Diego Lifeguard Services Lt. Rick Romero said. One person was rescued from a cliff and 22 others managed to make it to shore, he said.
"Once we arrived on scene, the boat had basically been broken apart," Romero said. "Conditions were pretty rough: 5 to 6 feet of surf, windy, cold."
Twenty-seven people were transported to hospitals with "varying degrees of injuries," Homeland Security spokesman Jose Ysea said. Most were able to walk themselves to ambulances.
It was unclear where the people on board originated from. The captain of the boat is reportedly in custody and speaking with investigators.
KAMALA HARRIS HAS GONE 39 DAYS WITHOUT A NEWS CONFERENCE SINCE BEING TAPPED FOR BORDER CRISIS ROLE
Ysea told Fox News when he arrived on scene there was a "large debris field" of broken wood and other items in the choppy waters.
"In that area of Point Loma it's very rocky. It's likely the waves just kept pounding the boat, breaking it apart," Ysea said.
A video shared by a Twitter user shows a vessel broken apart with debris being scattered by waves. A group of people can be seen trying to get to safety.
There were life preservers on board, but it wasn't known how many or whether any passengers were wearing them, officials said. Officials believed everyone on board was accounted for right away, but crews in boats and aircraft continued to search the area for several hours for other possible survivors.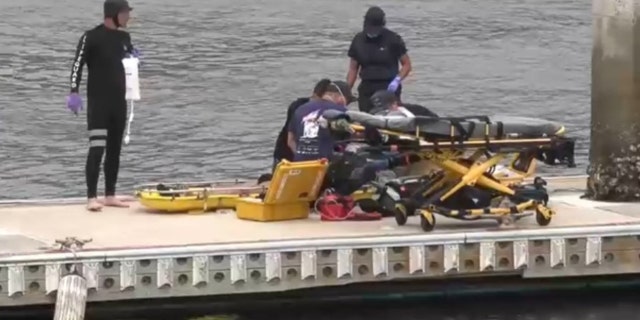 The group had reportedly been riding in a low-slung panga, a boat often used for smuggling. Just last Thursday, Customs and Border Protection agents intercepted a panga 11 miles off the coast of Point Loma that was carrying 21 Mexican citizens suspected of trying to enter the U.S. illegally, the San Diego Union-Tribune reported. All 21 people -- two of whom were suspected of smuggling -- were detained.
Chief Patrol Agent Aaron M. Heitke referred to Sunday's incident as a "suspected maritime smuggling event."
Nearly 100 first responders came to the scene, with eight fire engines, 10 medics, and various other officials.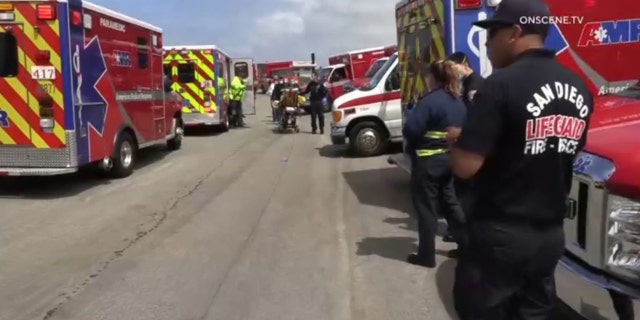 City Councilmember Jen Campbell, who represents the district, said her office was monitoring the incident and that her "thoughts are with those impacted."
Boats and aircraft were still searching around midday for other possible survivors in the water near the Cabrillo National Monument, SDFD said.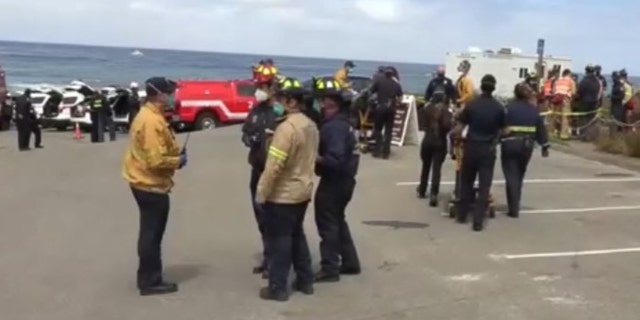 Border Patrol often spots pangas off the San Diego coast, many of them crowded with about 20 passengers. Some boats have landed hundreds of miles north of the border. Deaths are unusual but not unprecedented.
"The reality is crossing the border illegally is unsafe no matter the method, especially at sea," Supervisory Border Patrol Agent Jeff Stephenson said during an afternoon press conference. "The smugglers, they don't care about the people they're exploiting. All they care about is profit. To them, these people are just commodities."
BIDEN 'ABANDONED THE RULE OF LAW' AT BORDER, SENDING TEXAS COSTS SOARING, GOV. ABBOTT SAYS
Border Patrol on Friday said law enforcement officials would be ramping up operations to disrupt maritime smuggling off the coast of San Diego this weekend. As warmer weather comes to San Diego, there is a misperception that it will make illegal crossings safer or easier, the agency said in a statement.
The incident comes amid a surge in illegal immigration -- particularly unaccompanied minors -- at the border. Critics have hammered President Biden for his handling of immigration in the early days of his administration, pointing to moves that narrowed interior enforcement and slashed his predecessor's border policies, which they say increased the pull factors that drew migrants north.
CLICK HERE TO GET THE FOX NEWS APP
Last Thursday more than 90 people were found in a house in southwestern Houston that investigators suspect was also part of a human smuggling operation. Police said they received tips the day before that prompted an all-night investigation that eventually led authorities to the home on Friday.
Fox News' Evie Fordham and The Associated Press contributed to this report.