Russian tanker completes fuel transfer to iced-in Alaska city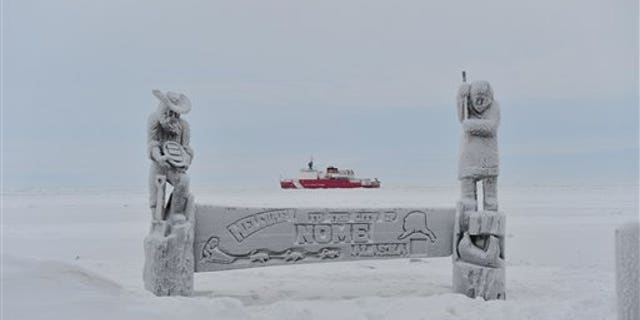 ANCHORAGE, Alaska – A massive effort to pump fuel from a Russian tanker to the iced-in Alaska city of Nome is complete, moving an estimated 1.3 million gallons into the city that faced a shortage after missing its last delivery.
Stacey Smith, manager of Vitus Marine LLC — the company that arranged for the tanker to deliver gas and diesel to the city — said the operation finished up Thursday morning.
Smith said the pumping operation finished up with temperatures finally reaching above zero in Nome, which for weeks has been experiencing record cold temperatures, dipping to more than 30 below zero.
The two lines that pumped both gasoline and diesel fuel from the ship will have to be cleared of any residual fuel, which could mean up to 7,000 more gallons of fuel.
The city of 3,500 didn't get its last pre-winter barge fuel delivery because of a massive November storm. Without the Russian tanker's delivery, Nome would run out of fuel by March or April, long before the next barge delivery is possible.
Alaska has had one of the most severe winters in decades. Snow has piled up 10 feet or higher against the wood-sided buildings in Nome, a former gold rush town that is the final stop on the 1,150-mile Iditarod Trail Sled Dog Race.
This is the first time petroleum products have been delivered to a western Alaska community by sea in winter.
The Russian tanker Renda began its journey from Russia in mid-December, picking up diesel fuel in South Korea before heading to Dutch Harbor, Alaska, where it took on unleaded gasoline. It arrived last week off Nome on Alaska's west coast, more than 500 miles from Anchorage.
A Coast Guard icebreaker cleared a path for the 370-foot tanker through hundreds of miles of a slow journey stalled by thick ice and strong ocean currents. In total, the tanker traveled an estimated 5,000 miles.
Two parallel hoses, 700 yards long each, stretched between the Renda and a pipeline that delivered the estimated 1.3 million gallons of fuel to storage tanks near the harbor of the iced-in city.