Remote towns in fear of flames for lack of help from California and the feds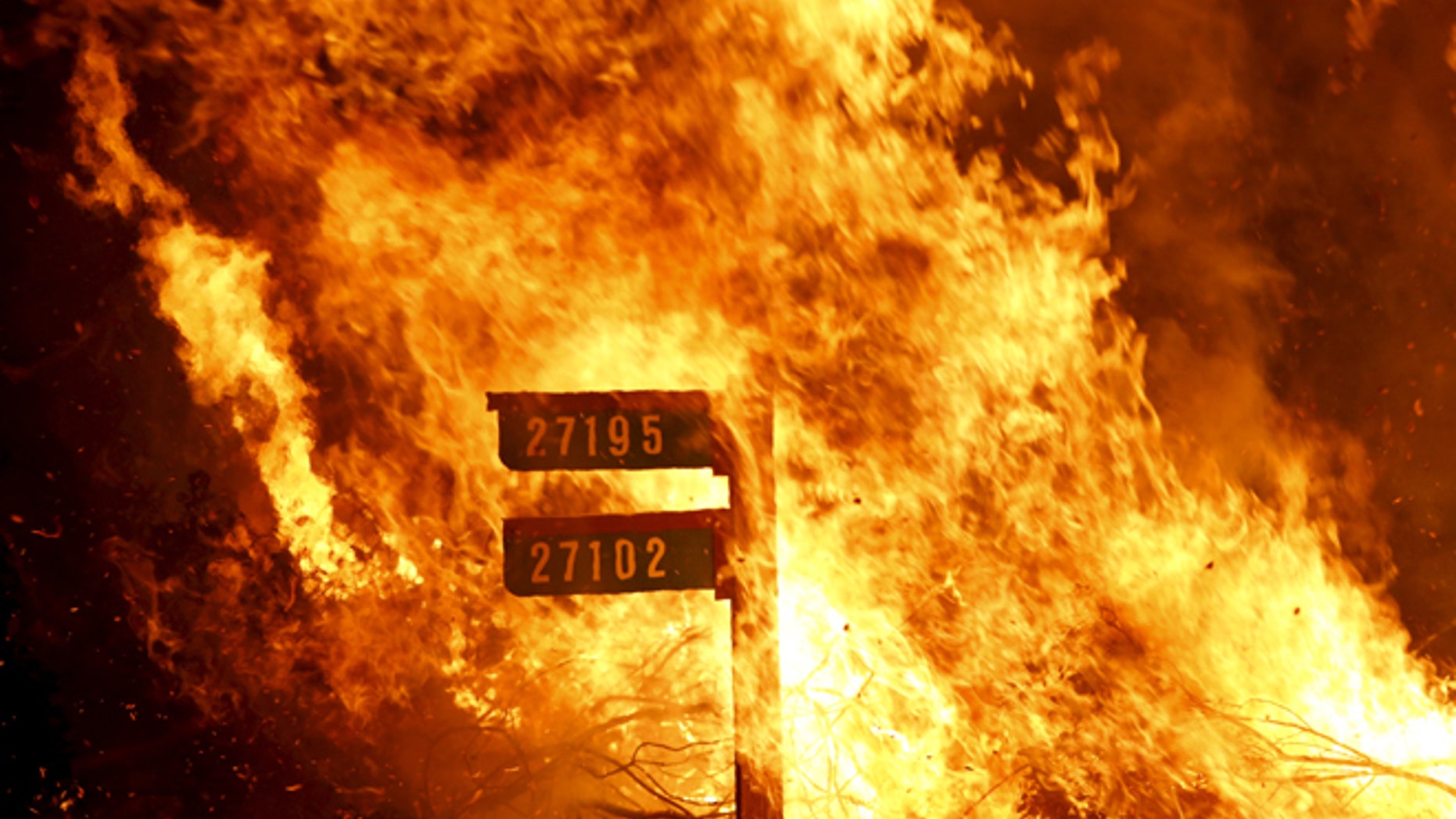 LAKEPORT, Calif. – It was Sept. 11, 2015, when 31-year-old Tony Gonzalez, while sitting in a feeding class at a "goat academy" three hours from his Middletown-area ranch in Northern California, got the feeling that something was very wrong.
His wife, Jenna, had just texted him a photograph of a small fire some distance from the ranch.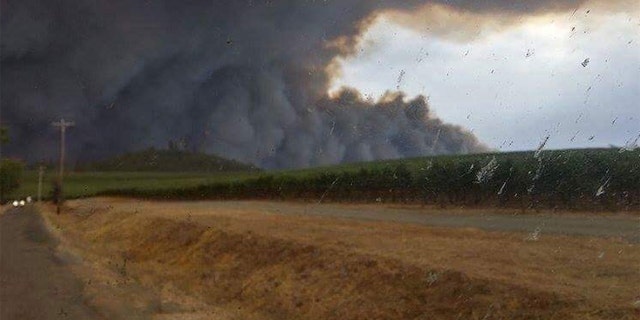 At home a couple of hours later, he checked Facebook and saw images on friends' pages of hundreds of acres of land burning and embers flying, sparking new fires that hatched even more embers and uncanny winds propelling the flames towards his home.
All night and the following day, ominous dark plumes rose over the neighboring vineyards like something out of a horror film.
There is a long wait to get someone up to inspect, the inspectors seem understaffed and the building codes have changed. There are all these new requirements, like having built-in sprinkler systems, making everything much more costly.
"The smoke was everywhere. The fire soon reached my driveway. I looked down the hill and everything was just red," an emotional Gonzalez, owner of a Lake County company that takes goats to eat brush to help prevent forest fires, told FoxNews.com. "Never in my life have I ever felt so hopeless."
As he fought the flames back, his house was rattled by explosions – fire hit a propane gas canister next door. On the other side, flames reached a neighbor's ammunition storage and for 45 minutes all he heard was the pop-pop of exploding bullets.
In the eleventh hour, friends from nearby counties slipped through the road blocks with water and equipment, and a neighbor bulldozed the area around Gonzalez's house.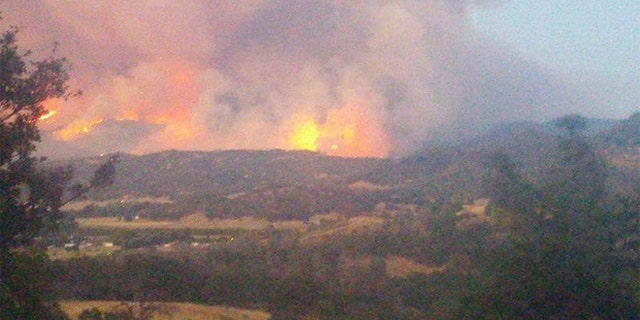 "There wasn't enough communication between authorities and residents," Gonzalez said. "No one appeared to know what was going on. At one point, my friends and I had stopped a fire before it reached the highway, when Cal Fire came in and started a backfire. We were down the bottom of the canyon screaming that we had just got it out, but they said they had orders, and all my animal feed was destroyed by it."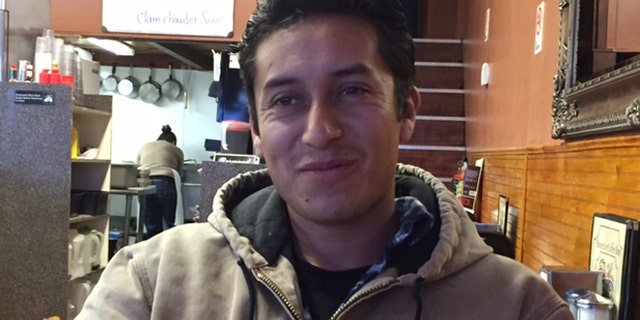 The Valley Fire – as it would be named – spread deep into Middletown and nearby Hidden Valley. Mandatory evacuations were issued, but the flames spread so fast that many didn't get the message in time.
In the end, four firefighters suffering second-degree burns, four residents lost their lives and almost 2,000 structures were decimated – including 1,322 homes and 73 businesses.
But the battle continues, long after the fire was extinguished. In some ways, it continues today thanks to the lack of federal and state resources that never quite make it down to small, out-of-the-way communities like Middletown.
For two months, tree roots smoldered, and dangerous sparks would fly up from the ground. And the remnants of charred cars and blackened belongings, evidence of people's quick flights from home, could be seen along the road months later.
Just when Lake County residents thought things could not possibly get any worse, they did.
The summer of 2016 brought another onslaught of deadly wildfires across California – killing seven and scorching more than 500,000 acres of land. The Clayton Fire tore through nearby Lower Lake, where Gonzalez Brush Busters is located.
Harmon Smith, a retired 82-year-old marketing executive, called this summer "the worst" he has seen.
His hilltop house was somehow spared, but three neighborhood homes burned to the ground. He vividly remembers residents running for their lives without cars as the conflagration chased them.
Cal Fire was so stretched thin by the fire, he said, that they had to focus on places where people were and let evacuated homes burn.
Smith's son and friends joined together to form their own firefighting crew. One neighbor charged through on a tractor to cut fire lines on their properties.
Smith praised firefighters for doing all they could in an "overwhelming" situation, but, in the aftermath, residents are struggling to cut through red tape to rebuild their lives.
"It is taking a long time," he said. "There is a long wait to get someone up to inspect, the inspectors seem understaffed and the building codes have changed. There are all these new requirements, like having built-in sprinkler systems, making everything much more costly."
Smith added, "The bureaucracy is tough."
Despite its poverty, Lake County, 100 miles north of San Francisco, is an idyllic countryside haven for wealthy residents and tourists alike – with cottages in the amber hills, vineyards and oak trees wrapped around scenic Clear Lake, a fishing and boating destination.
But according to 2015 US Census data, 24 percent of Lake County residents lived in poverty – nearly twice the national average – and land owners say they are still chasing away looters who were made homeless or had their livelihoods hurt by the fires.
Lower Lake was hit particularly hard this year, and much of its historic Main Street singed. A 150-year old church was destroyed, as were a winery, antiques store and the Habitat for Humanity office.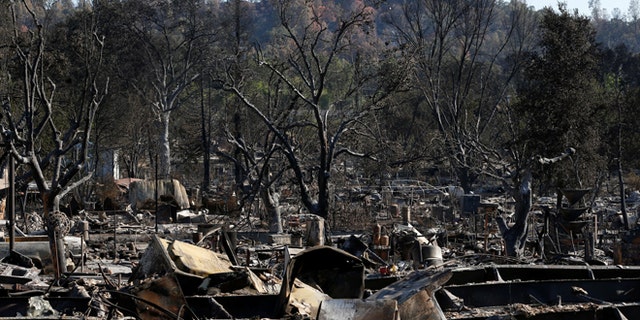 Richard Birk, president of Habitat for Humanity in Lake County, told FoxNews.com that housing is the No. 1 problem in the area. He estimates that 20 percent of home owners affected were not insured, and many renters are in limbo trying to get a proper roof over their heads.
"We have a significant number of military veterans here," Birk noted. "It is embarrassing to see how they have to live."
He said that around 10 percent of the rebuilding efforts have been completed, with the recovery from the two years' worth of wildfires likely to take up to 5 years. Locals told FoxNews.com that some are rebuilding only for insurance purposes, with the intention of selling and moving away to "safer" locales.
Last week, Lake County's Department of Environmental Health informed the Board of Supervisors that state crews had completed the vast majority of the cleanup work, with the expectation that it would be completed by Christmas.
Private cleanups were ongoing, the department reported, with individual owners hiring their own contractors.
But Smith warns that around 8 percent of the pine trees still present a fire threat, and, while the recent rains have cut down on the imminent danger, the weather is also making the brush grow back stronger than ever.
"I would have thought the state would [at least] pick up the fallen logs and dead trees," he said. "There are a lot of dead trees that need to be cut."
He added that the community "can organize to do it ourselves," but they require financial help
Lake County Board of Supervisors Chair Rob Brown, acknowledged to FoxNews.com that the dead trees are indeed a "stark reminder of the disaster" and need to go. But he said that shuttered businesses are quickly rebuilding, and the area communities are seeing an increase in jobs and an opportunity to repair and upgrade infrastructure like century-old water systems.
Yet what will happen next year is anyone's guess. The back-to-back wildfires have some in the community bracing for the worst, and others scratching their heads. There are families who lost their homes in 2015, only to rebuild nearby, and lose all they owned again in 2016. However, a representative for FEMA assured FoxNews.com that they continue to work directly with survivors in Mobile Home Units on their permanent housing plan, and said they have provided $11.8 million in Public Assistance funding, and $7.5 specifically for debris removal.
The U.S Forest Service has admitted that its federal funding allocation does not allow them to undertake the work crucial for fire prevention, and instead it takes money from those programs to fight the immediate dangers – i.e., new fires.
Brown said Lake County had not received funding that would allow to increase fire-prevention efforts, and while the state has offered to help with individual projects, it is ultimately up to Cal Fire to identify the most pressing needs and which areas will receive attention.
According to Mike Wilson, chief of Cal Fire's Pre-Fire Division, the Clear Lake area is part of a larger prevention project in which they are trying to rehabilitate the state forest and the standing dead trees.
Cal Fire is taking a multi-faceted prevention approach in the area – from education and encouraging the community to get involved to additional staffing for fuel management, which is what firefighters call doing controlled burns of brush.
But ultimately, fear of future flames grips the community.
"California is busy talking about how we need bullet trains and pouring money into bullet trains," Smith said. "But we need to be taking care of our infrastructure. Our people."
Jamie Brennan contributed to this report