Remains in California are those of missing boys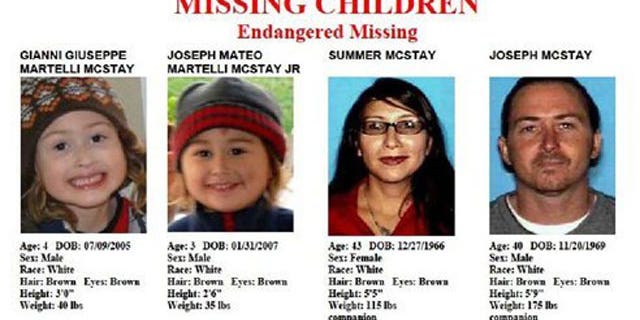 VICTORVILLE, Calif. – Officials have confirmed that bones found at a Southern California desert gravesite are those of two boys whose parents also were buried there.
San Bernardino County coroner's officials report Friday that the state DNA lab confirmed the identities of 4-year-old Gianni McStay and 4-year-old Joseph McStay. Authorities haven't said when or how they died.
An investigation began last week after an off-road motorcyclist discovered skeletal remains on the outskirts of Victorville.
Investigators excavated two shallow graves and found the bones of the boys and their parents, Joseph and Summer McStay. The parents' bodies had already been identified through dental records.
The family vanished in February 2010 from their San Diego County home, about 100 miles from the gravesite.
The FBI is helping in the hunt for their killers, but there's no word on a motive.