Protests break out around Trump Tower as president arrives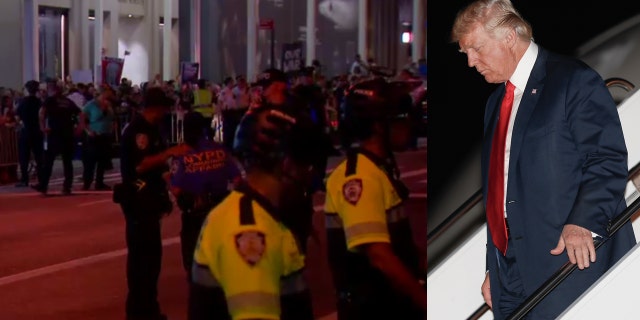 Thousands of angry protesters took to Trump Tower in New York City as the president arrived Monday night.
President Trump's motorcade managed to take a route that left him out of sight of most protesters.
Police have arrested at least two people: one for disorderly conduct and one for resisting arrest. Aside from that, the protests have been described as largely peaceful. Trump's visit marks his first stop at Trump Tower since he took office in January.
Protesters outside the tower on Fifth Avenue were shouting chants such as "New York hates you" and "love, not hate -- that's what makes America great."
There were also signs that carried messages such as "impeach" and "the White House is no place for white supremacy."
Police reportedly stationed sand-filled sanitation trucks to use as barriers around Trump Tower, in addition to barricades around the main entrance.
Among the protesters: John Post Lee, a New York artist who created an inflatable "Trump rat." Lee, who put the rat on display in front of the Plaza Hotel on Tuesday, said he modeled his inflatable figure after the blow-up rats labor unions often use to protest businesses.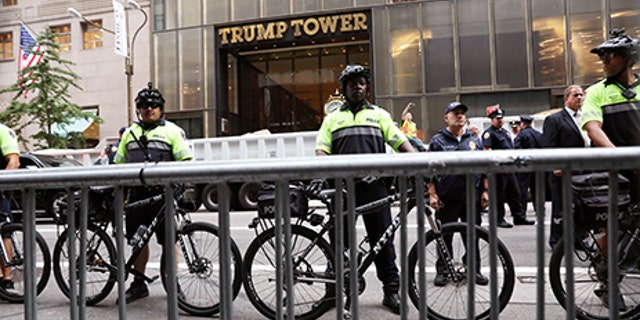 Meanwhile, about two dozen Trump supporters were in a seperate pen nearby The Plaza, chanting "God bless President Trump" and carrying American flags, while holding signs that said "now is not the time for divisiveness."
With supporters and anti-Trump demonstrators penned across the sidewalk, both sides yelled at each other, "Go home!"
Trump's homecoming comes two days after a deadly attack unfolded at a rally of white nationalists in Charlottesville, Va.
The president has come under fire for his response to Saturday's attack, which left one woman dead and 19 other people injured.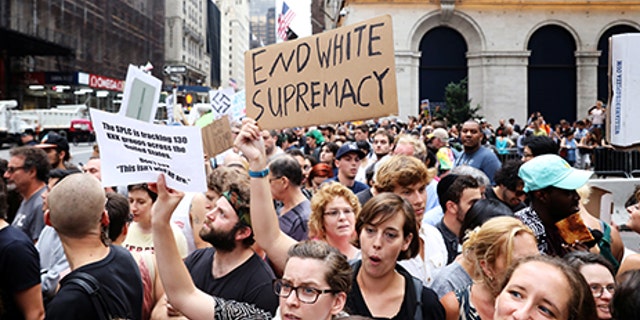 "To anyone who acted criminally in this weekend's racist violence, you will be held fully accountable. Justice will be delivered. As I said on Saturday, we condemn in the strongest possible terms this egregious display of hatred, bigotry and violence. It has no place in America," Trump said Monday in Washington.
He denounced that those who incite violence "including the KKK, neo-Nazis, white supremacists, and other hate groups that are repugnant to everything we hold dear as Americans."
Fox News' Patrick Manning and The Associated Press contributed to this report.