Police say photo of suspect in Indiana murders came from teen's phone; audio released of man's voice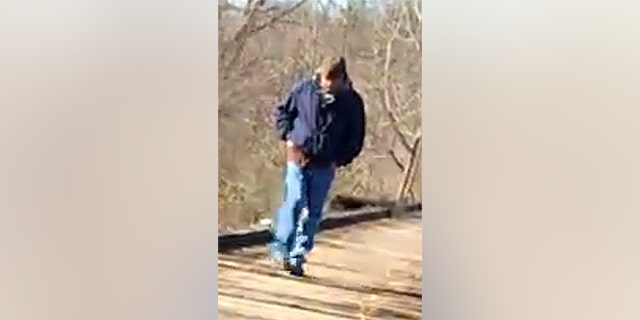 NEWYou can now listen to Fox News articles!
Investigators released an audio clip of the voice of a suspect in the homicides of two Delphi teenagers.

Capt. Dave Bursten with Indiana State Police played the clip during a Wednesday news conference. He said it came from the cell phone of Liberty German, who had the presence of mind to make the recording. Police said the voice is saying, "Down the hill."
Bursten played the clip multiple times during the news conference. State police later posted a version of the audio clip that was easier to understand.
TEEN ALLEGEDLY USED REVENGE PORN TO FORCE WOMAN INTO HAVING SEX WITH FRIENDS
Liberty, 14, and her friend, Abigail Williams, 13, were found murdered last week. Wednesday's news conference at Delphi United Methodist Church included officials from several different agencies, including the FBI. Authorities are offering a $41,000 reward in the case. The money comes from several sources: the FBI, a local business and a local family.
If you'd like to help raise the fund, mail your donation to:
Indiana State Police Alliance
1415 Shelby Street
Indianapolis, IN 46203
Officials ask that people make checks payable to the Indiana State Police Alliance Foundation. On the memo line, write "Delphi reward."
During the news conference. Sgt. Tony Slocum said the search continued for a man seen in a photo. Investigators revealed that the photo also came from Liberty German's phone. They said it's possible the voice in the recording is that of the man in the photo. They also acknowledged that it's possible more than one person may be involved.