Pervert sent Uber to pick up teen girl for 'group sex': cops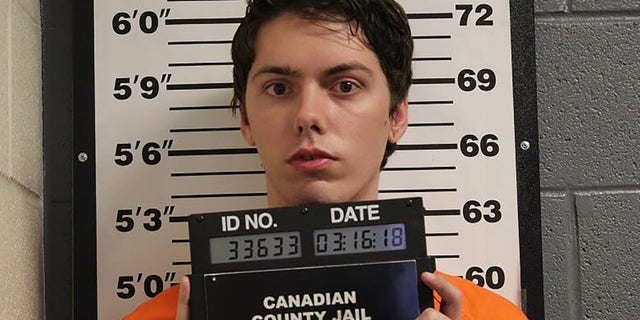 An Oklahoma sicko was busted for ordering an Uber to pick up a 14-year-old girl and take her to his grandparents' house so he could have "group sex" with her, officials said.
Canadian County Sheriff's deputies began investigating Taylor Kilgore, 21, last week when he told an undercover officer posing as a 14-year-old girl that he'd like "to hook up for sex," Oklahoma's News 4 reported.
The creep sent pictures of his genitals and told her "he would like to have group sex including the girl and one of his friends," officials said.
Since he didn't have a car, Kilgore said he'd arranged for an Uber to pick up the girl Friday and drive him to the home he shares with his grandparents, who were asleep in their bedroom.
STANDOFF UNDERWAY WITH GUNMAN AT PANERA BREAK NEAR PRINCETON UNIVERSITY
He told her she should tell his grandparents she was 18 if they woke up and asked how old she was, officials said.
"Kilgore was well aware that what he was doing was illegal but his sick sexual fantasy to have sex with a little girl pushed him to having an Uber deliver her to him," Canadian County Sheriff Chris West said.
Officials met up with the Uber driver who agreed to help, and took an undercover female deputy to Kilgore's home.
They found him "anxiously awaiting the underage girl in his front yard" and he was arrested.
Click here for more from The New York Post.