'Person of interest' questioned in armed robbery at upstate New York hospital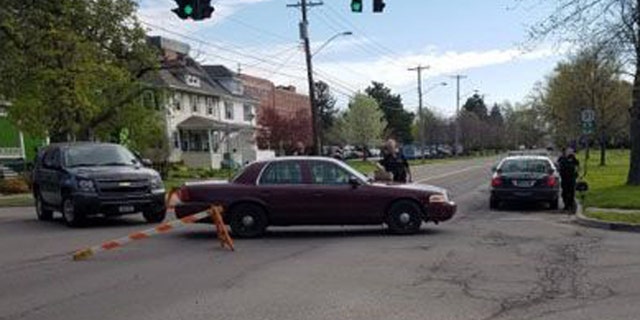 NEWYou can now listen to Fox News articles!
A "person of interest" was being questioned after an armed holdup at an upstate New York early Saturday, police said.
The man was taken into custody near Buffalo after the hospital was placed on lockdown for several hours and police conducted a manhunt.
City of Lockport Police Capt. Mike Niethe said a nurse at Eastern Niagara Hospital in the city called police shortly before 5 a.m. Saturday to report that a man armed with two rifles walked into the emergency room and demanded drugs.
Niethe said the gunman also told staffers he was carrying a bomb.
After being given drugs, the suspect fled just as police converged on the scene, the captain said.
He said officers saw the suspect emerge from the hospital and take off through a parking lot.
Niethe said one officer fired two shots at the suspect who dropped the rifles he was carrying in each hand and his backpack. The shots missed.
The captain said the bomb squad scanned the backpack for a bomb and found a cellphone connected to some wires. He said the device was harmless.
"We got lucky at the end," Niethe said.
Police searched backyards and streets in the area, the Buffalo News reported.
A "shelter in place" order was in place for several hours before it was lifted, the paper reported.
Ambulances were diverted to other hospitals during the lockdown, authorities reported.
During the police search, WGRZ reported that the suspect was a white male in his early 20s with blonde hair and about 6-feet tall. He was last seen wearing a tan shirt and pants, the report said.