Pennsylvania Turnpike crash involving tour bus, semi-trucks leaves multiple dead; highway closed
Multiple people were killed in a major crash involving a tour bus on its way to Ohio from New Jersey and three semi-trucks on the Pennsylvania Turnpike early Sunday in the western part of the state that left dozens injured, according to officials.
The "extremely serious" crash happened around 3:40 a.m. Sunday in the highway's westbound lanes in Mount Pleasant Township, located about 40 miles southeast of downtown Pittsburgh, according to Pennsylvania State Police Trooper Stephen Limani.
Limani said there were five fatalities and about 60 injuries as a result of the crash. Of those injured -- ranging in age from 7 to "into their 60's" -- two are listed in critical condition, according to Limani.
NJ TRANSIT TRAIN SLAMS INTO CAR ON TRACKS SOUTHWEST OF NEWARK, KILLING DRIVER AND PASSENGER
Pennsylvania State Police said the tour bus was traveling westbound on the highway from Rockaway, New Jersey to Cincinnati on a downhill curve when it struck an embankment and rolled over. After the bus rolled over, it was then struck by two semi-trucks before a third truck collided with the two other semis involved in the initial crash. Another vehicle then also became ensnared in the crash site.
A total of six vehicles were involved in the crash, including a tour bus, three semi-trucks loaded with parcels and one private passenger vehicle, according to police.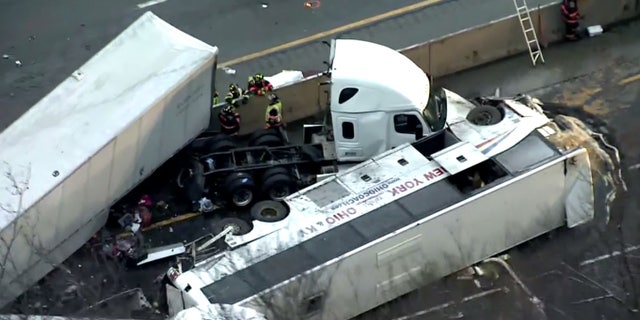 State police said that a total of 39 people were transported to area hospitals, including 28 sent to Frick Hospital in Mount Pleasant and 11 transported to Forbes Hospital in Monroeville.
Images from the scene showed mangled wreckage on the highway. A tour bus could be seen flipped on its side as a result of the crash.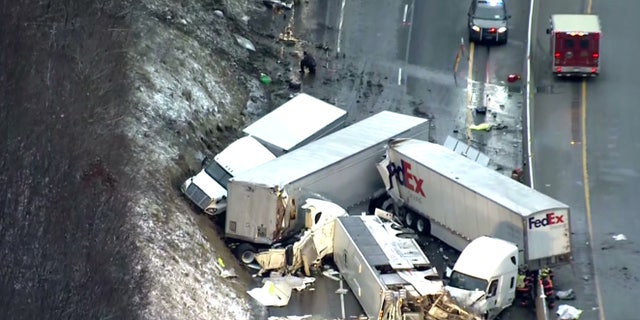 Angela Maynard, a tractor-trailer driver from Kentucky, told the Pittsburgh Tribune-Review she was traveling eastbound with her co-driver on the turnpike around 3:30 a.m. when they came across the crash.
"It was horrible," she said.
Maynard told the newspaper she saw someone on the ground, while another person was trapped in their truck.
SUV DRIVES OFF CALIFORNIA CLIFF – BUT NEITHER VEHICLE NOR OCCUPANTS HAS BEEN FOUND, AUTHORITIES SAY
"I walked toward the scene and saw one of the truck drivers laying [sic] near the barrier. I tried to keep him occupied, keep talking, until medical help arrived," Maynard told the Tribune-Review. "He was in bad shape. He was floating in and out of consciousness."
The bus, part of Z&D Tours, was filled with passengers mostly from other countries, according to Limani. He said two "most prominent" languages were Japanese or Spanish, but officials are still working on identifying those who were killed or injured due to many having documents and identification that are still at the crash scene.
"It's just a lot going on when it comes to identifying them and contacting their loved ones," he told reporters at a news conference Sunday afternoon.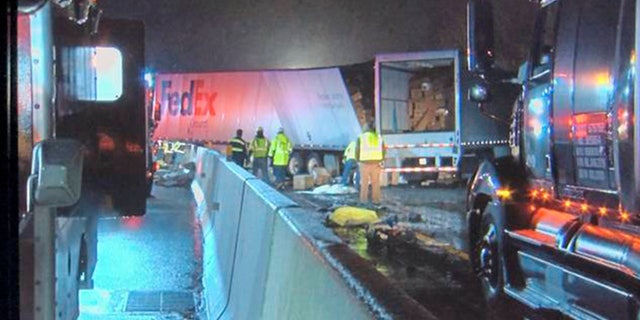 Limani said the Red Cross is assisting the victims of the crash, and "doing everything" to make it as comfortable as it can be to those impacted by the incident.
The crash caused all lanes to be closed in both directions on the highway between the Breezewood and New Stanton exits, roughly an 86-mile stretch of roadway.
Motorists traveling east are being urged to use Route 119 south US 40 east to Interstate 68 east (at Cumberland, Maryland) to Interstate 70 west and re-enter the turnpike at the Breezewood Interchange exit 161.
Westbound motorists are urged to use Route 30 west to Interstate 99 north to US Route 22 west to Route 66 south and re-enter the turnpike at exit 75 in at the New Stanton exit, according to KDKA-TV.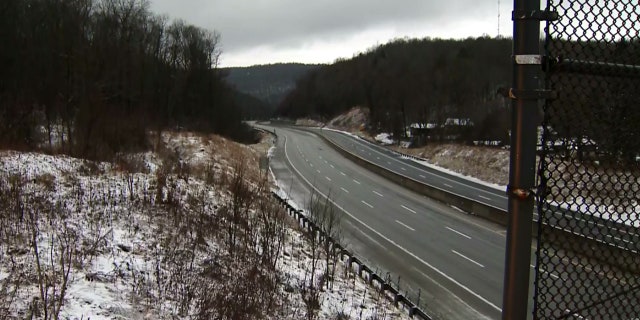 It was not clear if the weather was a factor in the crash. The National Weather Service forecast for Westmoreland County early Sunday listed light unknown precipitation and an air temperature just below freezing.
"The one thing about traveling through Pennsylvania is that we have change in weather. It could be just because of our mountains, our hills. Just the way that our elevation changes," Limani told reporters. "We were told that by some of the people that were driving, that the weather did start to change."
Limani told reporters that weather conditions "could have played a factor" in the crash, but authorities will be able to "get to that answer" as the investigation progresses.
Pennsylvania Turnpike Chief Operating Officer Craig Shuey told reporters at a news conference Sunday afternoon that work crews had been treating the roadway since 9 p.m. due to wintry conditions in the region. Shey added that road crews were cycling treatment using either salt or cinders during the time period before the crash took place.
CLICK HERE FOR THE FOX NEWS APP
The National Transportation Safety Board (NTSB) has dispatched a board member and team of 13 people to the scene, according to Limani
One FedEx semi-truck was pictured among the trucks involved in the crash. In a statement to Fox News, a FedEx spokesperson said the company extends "our deepest condolences to the families of the individuals involved in this accident."
"There is no higher priority for FedEx Ground than safety, and we are cooperating fully with investigating authorities at this time," the spokesperson added.
The Associated Press contributed to this report.