Penn Station nightmare: 1,200 passengers stuck on train in Hudson River tunnel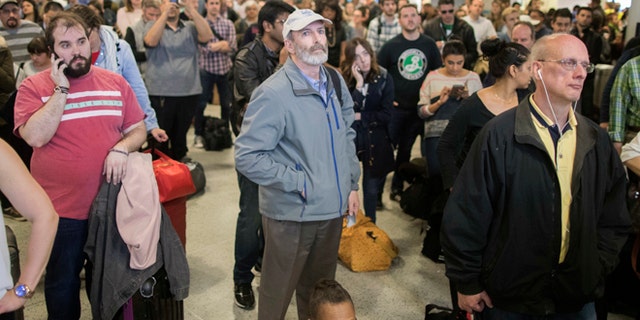 NEWYou can now listen to Fox News articles!
There are train major delays at Penn Station — and it's Amtrak fault yet again.
An overhead power supply that is under the railroad's control shorted out as a New Jersey Transit train headed toward the rail hub, trapping 1,200 passengers in the tunnel and causing 90 minute delays right as the evening rush was starting, officials said.
The Northeast Corridor train, which had originated in Trenton, was due to arrive at Penn Station at 3:15 p.m, but it sputtered to a halt when the power went out.
A rescue train is in the tunnel trying to get the riders out, said officials.
NJ Transit officials said Amtrak is responsible for maintaining the power to the tracks in the tunnel. Amtrak officials did not immediately return calls for comment.
All NJ Transit trains in and out of Penn Station are currently delayed by about 90 minutes, said officials. Long Island Rail Road trains are also delayed because of the incident, and two of the agencies trains – one to Babylon and one to Long Beach – have been cancelled, said spokesman Aaron Donovan.
Riders at Penn Station were beyond frustrated to once again find themselves stranded and trying to out of Manhattan – and this time on a holiday weekend.
"There is literally there is no room to stand, and I'm so hot I can't even talk on the phone." a woman grumbled into her phone.
Riders said they are tired of being jerked around.
"It's such an obvious problem, and there is no real effort to solve it," said Ryan Beppel, 29, a musician from Brooklyn who was trying to get to New Jersey.