Penn State to begin disciplinary proceedings after frat party death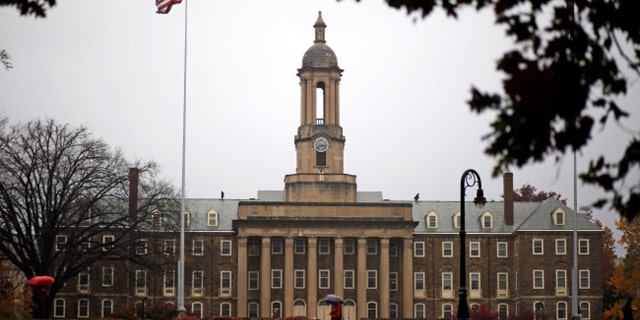 After charges were filed against 18 Penn State fraternity brothers in the death of one of their pledges, the university is setting up for proceedings of its own.
The university will begin disciplinary proceedings now that university officials have the outcome of the criminal investigation, Penn State News and Media Relations Senior Director Lisa Powers told Fox News.
Tim Piazza, 19, suffered injuries and ultimately died after he fell down a set of stairs during a pledge party at Beta Theta Pi on Feb. 2.
Powers said the university's proceedings are separate from the court's activity.
"In general, we look at what is provided to us by local police and then our Office of Student Conduct undertakes an investigative review, which will be used to inform the ongoing conduct processes," Powers said. "The results of those processes will ultimately determine if an individual has violated Penn State's student code of conduct, and will be subject to disciplinary sanctions if found in violation."
The charges came as hundreds of family members were on the university's campus for Penn State's graduation weekend. But for the some of the fraternity brothers of Beta Theta Pi, the weekend wasn't a time for graduation celebrations.
VIDEO SHOWS COLORADO STUDENTS SMASH PIÑATA WITH TRUMP'S PHOTO; TEACHER ON LEAVE
"We placed a graduation hold on any student named in the presentment who was scheduled to graduate," Powers told Fox News.
She said the university has placed stricter rules on Greek life. "In the face of strong evidence that these groups cannot adequately self-govern, Penn State has said, 'enough is enough,' and has imposed new aggressive measures on these groups in exchange for recognition."
PENN STATE FRAT MEMBER: PLEAS TO CALL 911 FOR UNCONSCIOUS PLEDGE WENT UNHEARD
Powers added that the university is known for having one of the most aggressive misconduct policies in the country. Yet she acknowledges the policies have not done what the university intended.
"Despite more than a decade of focus and...policies that clearly spell out consequences, Penn State – like other colleges and universities – has been unable to curb these behaviors."