Outcry after Chicago-area public school plans seminar around civil rights, race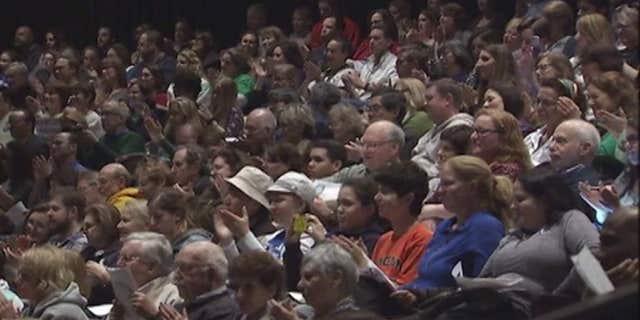 A public school in one of Chicago's wealthiest suburbs stepped into unforeseen controversy last week after deciding that its annual seminar would focus on race and civil rights.
Dozens of workshops planned for Tuesday at New Trier High School, located in Winnetka, Ill., will cover such topics as voter suppression, affordable housing and police brutality. Colson Whitehead, whose historical fiction "The Underground Railroad" has won literary accolades, will speak.
NEARLY HALF OF COLLEGE STUDENTS REPORTEDLY THINK FEDS WILL FORGIVE THEIR LOANS
Administrators and many parents have said the seminar is particularly important because of the school's population. About 85 percent of the school's 4,000 students are white with similar demographics among the teachers. In Winnetka, home to the main campus, the median household income is more than $200,000 and stately brick mansions are common.
The school board said last week the civil rights seminar was already set, but some parents called the seminar too political and they urged the school to have more diverse speakers, Fox 32 Chicago reported.
CHRISTIAN PREP SCHOOL COACH REPORTEDLY FIRED OVER 3-YEAR-OLD PICTURE WITH ALCOHOL BOTTLE
The "Parents of New Trier" group said there is not enough diversity and the seminar day is too politically progressive and left-wing. The group, made up of several hundred parents, called for more conservative viewpoints.
Some parents and conservative groups have deemed the event during Black History Month "radical" and "divisive." Dueling petitions circulated, heated emails were exchanged and hundreds of people packed a school board meeting beyond capacity.
"The school went about this in a way that ensures it will be narrow and divisive," said Betsy Hart, who has two children enrolled. Hart, a senior writer at the conservative Heritage Foundation who says her school activism is separate from her day job, expects the parent group to continue pushing for more conservative voices at New Trier High.
Among some of the requests, the group wants to add research supporting voter identification laws to a session on voter suppression and ensure a panel on affirmative action includes contrasting views such as the suggestion that it's detrimental for minorities.
The group presented the district with a binder full of research and an annotated schedule for the day: yellow highlights for language the parents find objectionable and green for suggested alternatives.
Still, most students and their parents have expressed support for the day. About 450 people signed a petition seeking different speakers versus roughly 5,000 signatures for keeping the lineup as is.
School administrators said parents had opportunities to air concerns, and adding last-minute speakers doesn't boost the seminar's quality.
"Critical thinking is about more than having two opposing views," said Tim Hayes, an assistant superintendent.
"It's a matter of the day being balanced. I see it as being too progressive and liberal," she said. "You shouldn't feel guilty for attending such a great school and having a great education. You should feel blessed."
Other students argue that's the point. Some have prepared for Seminar Day by watching Spike Lee's 1989 film, "Do The Right Thing," which tells the story of simmering racial tension in a New York neighborhood that erupts in violence.
"When the thing that your community is most worried about is that your education is too liberal, I feel like that's a motivating factor to get out more," said 17-year-old Celia Buckman, a senior at New Trier.
"It really makes you think about the kind of privilege that your community really has."
The Associated Press contributed to this report.