Oregon governor forgives boy for swiping hazelnut, pen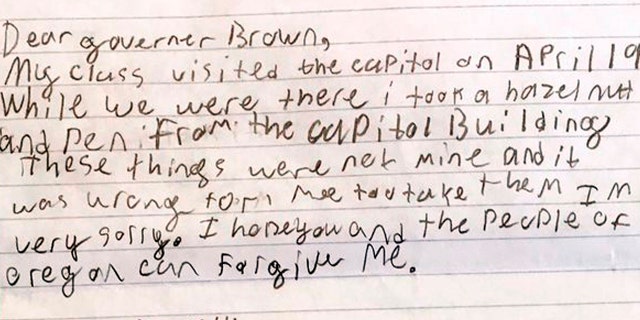 A fourth-grade boy who swiped a hazelnut and pen during a tour of Oregon's Capitol Building was pardoned by the governor after sending her a handwritten apology letter.
"Dear Governor Brown," Samuel Revenko wrote in the letter to Gov. Kate Brown. "While we were there I took a hazelnut and a pen from the Capitol Building. These things were not mine and it was wrong for me to take them. I'm very sorry."
Revenko took the items during a classroom tour to the Capitol Building on April 19.
"I hope you and the people of Oregon can forgive me," Revenko wrote.
105-YEAR-OLD WOMAN GETS WISH FULFILLED: A HIGH SCHOOL DIPLOMA
Brown was so touched by the apology that she posted the note on Facebook on Thursday. The governor wrote a return note, accepting Revenko's apology and pardoning him for the crime.
"Thank you for your note of apology. On behalf of the people of Oregon, I accept your apology and forgive you," Brown said.
"Oregon is a special place. I hope we can work together to keep it that way," she added.
DOG FINDS FAMILY'S MISSING CAT UNDER HOUSE FIRE RUBBLE
As a final gesture of appreciation for Revenko apologizing, Brown sent the boy his own pen to keep.
"I hope the pen coming your way will be an adequate memento of your visit at the Capitol. Come back soon!" Brown wrote.