Alabama police officer killed, second critically injured in shooting outside nightclub, chief says
An investigation into a suspected car burglary in Alabama's largest city turned deadly early Sunday when a suspect opened fire on two officers, killing one and critically injuring another, officials said.
Birmingham Police Chief Patrick Smith said at a news conference the two officers had approached two suspects just before 2 a.m. outside a downtown nightclub, after a plainclothes officer spotted at least one suspect checking door handles on cars parked outside the venue.
"This is one of the roughest hours of your career. There's not a chief, not an officer, that ever wants to have to deal with this," Smith told reporters. "This is a very, very difficult thing for the family. A very difficult thing for the department."
ILLINOIS STATE TROOPER FATALLY STRUCK WHILE INVESTIGATING VEHICLE CRASH ON INTERSTATE
Smith said there had been burglaries in the area and that the officers were working the investigation at the time of the shooting, WBRC reported.
Sergeant Wytasha Carter died in the shooting and the other officer, who has not yet been identified is in critical condition, according to police.
"This is one of the roughest hours of your career. There's not a chief, not an officer, that ever wants to have to deal with this."
Carter, who began his law enforcement career in 2002 as a correctional officer with the Shelby County Sheriff's Office, transferred to the Birmingham Police Department in 2007, according to a police press release.
He received his Bachelor of Arts degree from Belford University and served in the U.S. Air Force.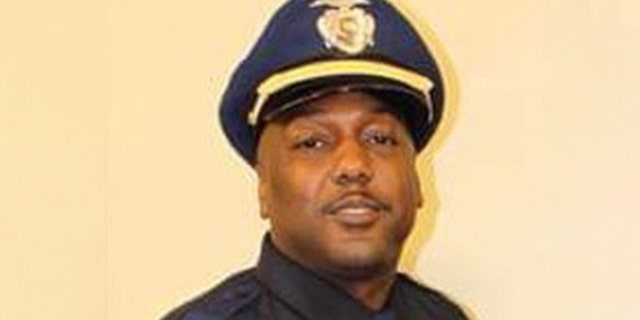 In 2016, Carter was one of three officers who rushed into a house fire to save two little girls, according to WBRC.
In regards to the suspects, the chief said that one suspect is currently in custody, one suspect is receiving medical attention.
"The main thing is that we're here for them. We're going to do everything that we can to support them," Smith told reporters when asked about the family of the slain officer. "This is a very difficult time. There are members of the department who have worked with them for years. They are hurting like everyone else."
OFFICERS KILLED IN THE LINE OF DUTY IN 2018
The Jefferson County Sheriff's Office said on Twitter it was sending "thoughts and prayers to our fellow officers at Birmingham PD."
Birmingham Mayor Randall Wood said on Twitter he was "praying for the family" of the slain officer, and that police continue to investigate the deadly shooting.
"As a city, we stand with the families of these officers and the Birmingham Police Department at this tragic time," he said.

The officer was the first Birmingham officer killed in the line of duty in more than 14 years, according to WVTM-TV.
CLICK HERE TO GET THE FOX NEWS APP
The Birmingham officer's death followed last week's killings of police officers in Shreveport, La., and Davis, Calif., and Saturday's vehicular death of an Illinois state trooper.