Ohio police officer fatally shoots teenage girl who appears to hold a knife during fight, video shows
Columbus Mayor Andrew Ginther said the 'officer took action to protect another young girl in our community'
An Ohio police officer shot and killed a teenage girl Tuesday as she attacked two other people with what appeared to be a knife in east Columbus, body camera footage released just hours after the fatal shooting shows.
Police were called to the scene around 4:30 p.m. on a report of someone attempting to stab others at a home.
As soon as police pulled up, a young female can be seen tackling another female to the ground with what appeared to be a knife in her hand. The girl can then be seen charging at another nearby female while raising the apparent knife in the air, at which point the officer fired multiple shots, fatally wounding the attacker.
BODY OF MISSING OHIO WOMAN, 20, FOUND INSIDE VACANT HOME, INVESTIGATORS SAY
"She came at them with a knife," the officer can be heard saying as other officers tended to the girl on the ground.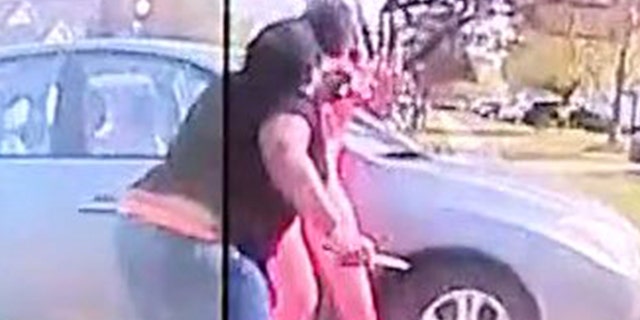 The Ohio Bureau of Criminal Investigation is now investigating the incident, but Columbus Police Department interim chief Michael Woods said during a press conference late Tuesday that his department wanted to release the bodycam footage as soon as possible for transparency.
"We took some unprecedented steps tonight," Woods said. "We've never been able to release video this fast, but we thought it was important to share with the community, to be transparent about this incident, to let them have some answers that we can provide tonight."
He added that investigators will look into whether the fatal shooting complies with state law that says, "deadly force can be used to protect yourself or the protection of a third person."
DEREK CHAUVIN TRIAL VERDICT: EX-MINNEAPOLIS POLICE OFFICER FOUND GUILTY ON ALL CHARGES IN GEORGE FLOYD'S DEATH
Columbus Mayor Andrew Ginther said that the whole situation is a tragedy.
"It's a tragic day in the city of Columbus. It's a horrible, heartbreaking situation," Ginther said Tuesday night. "The city of Columbus lost a 15-year-old girl today. We know based on this footage, the officer took action to protect another young girl in our community. But a family is grieving tonight. And this young 15-year-old girl will never be coming home."
It's unclear if anyone else was injured during the attack. The officer involved in the fatal shooting has been taken off the streets amid the investigation, authorities said. Their name was not immediately released.
Ned Pettus Jr., the public safety director for the city of Columbus, said that even though the family and city deserve answers, "fast, quick answers cannot come at the cost of accurate answers."
WARNING: THIS VIDEO CONTAINS STRONG LANGUAGE
Police have not identified the girl who was shot, but her family identified her to FOX 28 as 15-year-old Ma'Khia Bryant.
According to Franklin County Children Services, Bryant was a foster child under their care.
Hazel Bryant, who identified herself as the victim's aunt, said that her teenage niece picked up a knife to defend herself during a fight with other people in the neighborhood.
"Police rolled up, shot my niece four times," Bryant told 10TV's Lacey Crisp earlier in the day.
Videos posted by local news reporters and bystanders showed a chaotic scene after the shooting, which occurred just before a verdict was announced in the death of George Floyd, for which former Minneapolis police officer Derek Chauvin was found guilty of murder.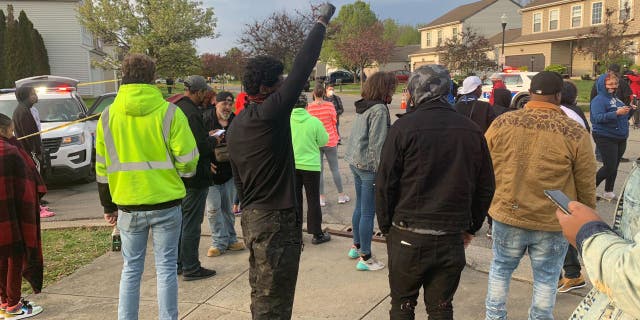 COLUMBUS SHOOTING: PROTESTERS GATHER AT POLICE HEADQUARTERS AFTER TEEN FATALLY SHOT BY OFFICER
Protesters gathered near the location of the shooting and at the Columbus Police headquarters Tuesday night. Many were seen pushing past police barriers outside the headquarters around the same time bodycam footage was being shown inside.
Chants of "Black women matter," "Black girls matter," and "Say her name!" rang out from the crowd.
Ginther urged residents to be peaceful.
"I ask for everyone to pray for peace," Ginther said. "Tonight we pray for this family, we pray for our city, and we pray for our neighbors throughout this community."
CLICK HERE TO GET THE FOX NEWS APP
This is not the only recent officer-involved shooting in Columbus. Another Columbus police officer is currently facing a murder charge for a fatal shooting. Officer Adam Coy shot Andre Hill on Dec. 22 as Hill was emerging from a garage holding up a cell phone, officials previously said.