New Mexico jail inmate at large after escaping from clinic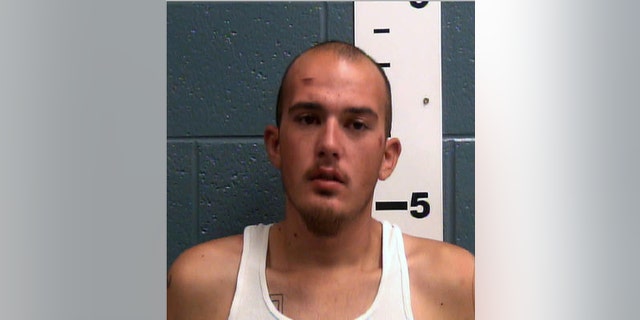 NEWYou can now listen to Fox News articles!
LAS CRUCES, N.M. – Authorities in southern New Mexico searched Thursday for a jail inmate who escaped from a medical clinic after he was accused of kidnapping a driver by gunpoint in Texas and twice leading police on car chases.
Police in the city of Las Cruces said Michael Derby, 24, is dangerous and urged the public to report tips on his whereabouts after he fled the clinic where he was taken for a medical exam Wednesday night.
Derby's restraints were removed for the exam and afterward he bolted down a hallway and out the front door, running to a nearby business where he stole a truck with a trailer containing three horses, officials said. The vehicle and horses later were found in a residential area.
Police said they learned that Derby used a cellphone in the truck to call a friend and that a relative picked him up. No additional details were released, and police said he remained at large.
Derby was described as 5-foot-11 and 181 pounds, and police said he has a light goatee, short hair and a tattoo of a skull on a back calf. Court records don't list an attorney for Derby who could comment on the allegations.
His escape comes after two state prisoners broke out of a prison transport van March 9 during a fuel stop along a rural highway. They were caught days later 200 miles away in Albuquerque.
Derby was arrested Sunday after two police pursuits and a carjacking in a neighboring state. It began when a police officer stopped him in Las Cruces and saw a handgun in the car, authorities said.
Derby drove off, and officers chased him until he crossed the New Mexico line into Texas. In El Paso, about 45 miles south of Las Cruces, he carjacked an SUV and briefly held the driver at gunpoint, authorities said. The driver got away at a gas station.
A second chase began hours later when the stolen SUV was spotted in the Las Cruces area. Derby twice tried to strike a deputy with the SUV, and he had to be forcibly removed when officers got it stopped outside the city, authorities said.
Derby was arrested on suspicion of numerous crimes, including aggravated assault on a police officer, aggravated fleeing from a peace officer and possessing a stolen vehicle.
"He'll face additional charges as a result of the escape," said Jess Williams, a spokesman for Dona Ana County, where Derby was jailed.
The suspect is considered dangerous because he might have obtained another gun, Las Cruces police spokesman Dan Trujillo said.