New book claims Amelia Earhart was taken prisoner by Japanese during WWII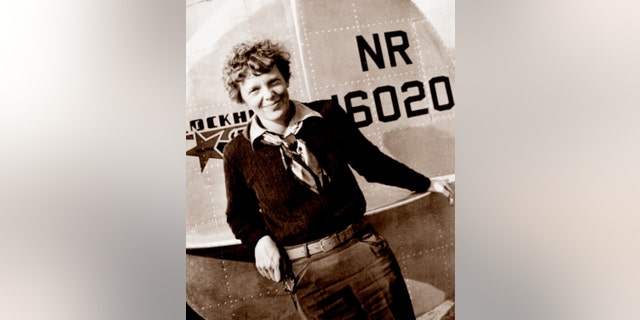 With just hours to go before the calendar flips to 2016, social media is abuzz with a new theory on: What happened to Amelia Earhart?
And just when you think the theories couldn't get more incredible, this one appears to be ... one for books.
Author W.C. Jameson, in his new book "Amelia Earhart: Beyond the Grave," claims the great female aviator who disappeared in 1937 was actually on a secret spying mission authorized by Franklin D. Roosevelt when she vanished.
Jameson claims to have found evidence showing Earhart's plane was equipped with cameras to record Japanese military installations in the Pacific Ocean when it lost contact in the Marshall Islands.
The author writes that Earhart and her co-pilot Fred Noonan were shot down or landed in Japanese territory and held prisoner.
Jameson's book -- set to debut Jan. 5 -- goes on to claim the Roosevelt administration -- which he says knew of her fate -- made no attempts to rescue her because the president did not want to admit the famed, female aviator was used for a spy mission.
When Earhart was freed in 1945, she returned to the United States under a new identity -- Irene Craigmile Bolam -- so as not to embarrass Roosevelt, according to Jameson. The author claims Earhart lived out her life in the U.S. and died in 1982.
Earhart and Noonan disappeared somewhere over the Pacific Ocean on July 2, 1937, during her second attempt to circumnavigate the globe by air. Earhart was 41 years old at the time.
Dozens of theories about the nature of Earhart's death have sprung up over the years. It remains one of the most debated unsolved mysteries in America even today.
The longstanding official theory is that the plane ran out of gas, crashed and sank into very deep ocean waters somewhere off Howland Island, a tiny speck that the pair missed.
Various teams who believe the crashed-and-sank theory —an explanation supported by curators at the Smithsonian's Air and Space Museum — have tried to pinpoint the crash location using sophisticated equipment to scan the ocean floor and employing computer models, based on the strength of Earhart's radio transmissions. No one has found a verified plane part or bone fragment.
The Associated Press contributed to this report.