Navy SEAL trainee dies during basic training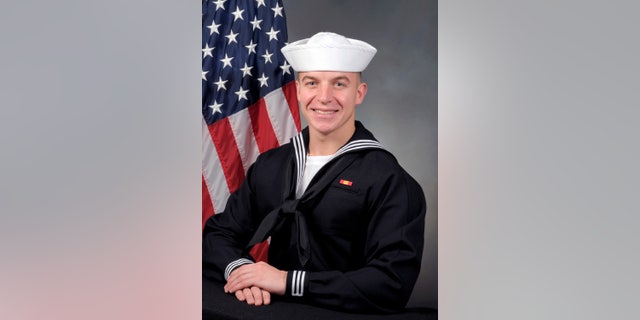 NEWYou can now listen to Fox News articles!
SAN DIEGO – A 21-year-old Navy SEAL trainee died last week during his first week of basic training in Coronado, California, a Navy spokesman said Tuesday.
Seaman James "Derek" Lovelace was pulled out of the pool Friday after showing signs he was having difficulty while treading in a camouflage uniform and a dive mask, Naval Special Warfare Center spokesman Lt. Trevor Davids said.
Lovelace lost consciousness after being pulled out of the pool and was taken to a civilian hospital, where he was pronounced dead, Davids said. The death was first reported by NBC News and The Virginian-Pilot.
He was in his first week of training as a SEAL trainee after joining the Navy about six months ago, Davids said.
Lovelace was born in born in Landstuhl, Germany, and dreamed of becoming a SEAL, according to a death announcement from Whitehurst Powell Funeral Home and Southern Heritage Crematory in his home town of Crestview, Florida.
He enjoyed any activity on the water and played baseball at Crestview High School and Faulkner State Community College in Bay Minette, Alabama, according to the death announcement. Lovelace joined the Navy and graduated basic training on Jan. 28, 2016, in Great Lakes, Illinois.
He is preceded in death by his mother, Katie Lovelace. Survivors include his father, James Lovelace; sisters, Lynsi Price of Ft. Drum, New York, and Kaysi Lovelace of Crestview; grandparents, Jan Pugh of Pensacola, Florida, and James and Sandi Lovelace of Beckley, West Virginia, and Nancy Gragg of Sandy Springs, West Virginia, along with numerous aunts and uncles, according to the death announcement.
Final arrangements are pending.
The death comes only days after another Coronado-based SEAL — Navy Petty Officer 1st Class Charles Keating IV — was shot and killed during a gunbattle involving Islamic State fighters in Iraq. Naval Special Warfare will hold a private memorial service for Keating on Thursday, followed by a special procession in Coronado on Friday that will be open to the public.