Navy to review dress code after pro-Trump patches seen on some uniforms
The federal government is reportedly reviewing its Defense Department policy regulations on dress code after some service members wore a uniform patch with the words "Make Aircrew Great Again" during President Trump's visit to their ship in Japan on Tuesday.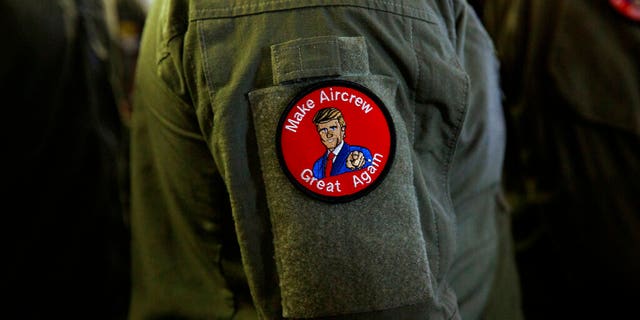 The patches were spotted on the sleeves of several service members aboard the USS Wasp, where the president spoke Monday. The phrase emblazoned on the patch, along with a likeness of Trump, is a play on his campaign slogan, "Make America Great Again."
Reactions to the patches were mixed. Navy veteran Malcolm Nance, cited by the Daily Caller, called the patch a "novelty" and "unauthorized." Other Trump critics were far less measured in their responses.
JAPAN WELCOMES TRUMP WITH A CHARM CAMPAIGN, GOLD AND SUMO
Claude Taylor, a self-proclaimed "liberal provocateur," called the patch "fascism" and a "clear violation of the UCMJ," referring to the Uniform Code of Military Justice, which spells out U.S. military laws.
The military has uniform dress codes and regulations against partisan political acts while in uniform. The Navy said Tuesday that the matter was under review to ensure that the patches did not violate policy or regulations.
The patch has been spotted in photos for at least two years. Service members can be seen wearing the patch in a U.S. Department of Defense post on Twitter from September 2017.
CLICK HERE TO GET THE FOX NEWS APP
Trump visited the USS Wasp assault ship Tuesday before returning to Washington from four days in Japan.
The Associated Press contributed to this report.