Navy plane that crashed in Philippine Sea located deep in Pacific
A U.S. Navy plane that crashed in the Philippine Sea in November, killing three sailors, has been located in the Pacific Ocean.
The C-2A Greyhound aircraft, which was carrying 11 sailors from Japan to the aircraft carrier USS Ronald Reagan before crashing on Nov. 22, now rests at a depth of about 18,500 feet, the Japan-based U.S. 7th Fleet said Saturday.
A contracted salvage vessel located the aircraft using a pinger locator that homed in on the crashed plane's emergency signal.
The focus now shifts to salvaging the plane from what would be a record-setting depth for such an effort, the Navy said.
"Despite very challenging conditions, every effort will be made to recover the aircraft and our fallen sailors," the Navy said, adding that poor weather caused the initial mission to be postponed.
In the coming weeks, a recovery team will return to the crash site with a side-scan sonar and remotely operated vehicle to map the debris field as well as rig the aircraft with strong lines to lift it to the ocean's surface, the statement said.
Eight sailors survived the crash. Those killed have been identified as Lt. Steven Combs, originally of Massachusetts, Aviation Boatswain's Mate (Equipment) Airman Matthew Chialastri of Louisiana, and Aviation Ordnanceman Airman Apprentice Bryan Grosso of Florida.
Elizabeth Combs has said that her brother was piloting the aircraft and managed to settle it in the sea, allowing for the survivors to be rescued. The Navy called Combs' actions "heroic."
The cause of the crash remains under investigation.
Earlier this month, the aircraft carrier USS Ronald Reagan joined two other aircraft carriers off the Korean Peninsula for the first time since the late 1960s in a show of force to North Korea. At the time of the plane crash, the carrier's crew was training with the Japanese military.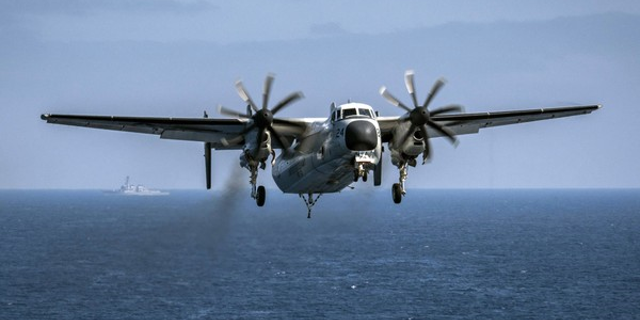 The crash was the latest accident for the 7th Fleet, following two separate collisions at sea last summer involving the guided-missile destroyers USS Fitzgerald and USS John S. McCain.
Those accidents, which killed a total of 17 sailors, led to the removal of eight top Navy officers from their posts, including the fleet commander.
Fox News' Lucas Tomlinson and the Associated Press contributed to this report.