NAACP calls for 'snowflake' protest against Trump at College Football Championship
Amid the crimson, white, red and black during the national college football championship in Atlanta on Monday, the NAACP wants to see fans wave a white towel to simulate a blizzard of "snowflakes" to send a message to President Trump.
The president plans to attend the event, and Atlanta's NAACP chapter said on its Facebook page that it wants fans inside the stadium for the College Football Playoff title game to send him a message by waving white towels "simulating a blizzard."
"We will not let the President's visit go without a response. If you are lucky enough to attend the game, we encourage you to bring a white towel to wave simulating a blizzard while the president is in the packed stadium," the group said. "Trump supporters mockingly call the opposition snowflakes, but when we come together we create a mighty storm."
It's one of several anti-Trump protests planned as the president visits Atlanta on Monday night to attend the showdown between the University of Georgia and the University of Alabama.
While the NAACP will not be officially participating in a protest outside at the game, the group is urging people to hold anti-Trump signs.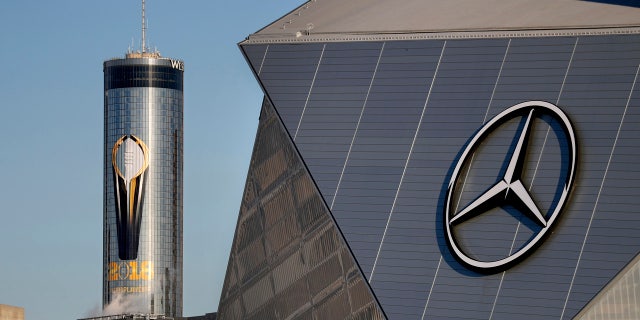 Richard Rose, president of the Atlanta branch of the NAACP told FOX 5 Atlanta the administration's support for promoting off-shore drilling "could have a devastating effect in Georgia, Alabama, other states along the coast, and throughout the world."
ALABAMA TOPS CLEMSON, WILL PLAY GEORGIA IN TITLE GAME
"Every measure the previous administration put in place to protect the well-being of people and the planet has been under attack by the Trump administration," he said.
Another group, Refuse Fascism ATL, says they'll "take a knee against Trump" outside CNN's world headquarters near the stadium before kickoff.
Atlanta police have said they will set up several designated areas for protesters and won't interfere with demonstrations. Local, state and federal law enforcement authorities said last week that they've worked for months to develop security plans for the game.
The stadium sits in the heart of downtown Atlanta, a place Trump targeted in a pair of tweets Jan. 14 last year. He was punching back at Democratic Rep. John Lewis. The Atlanta congressman, a civil rights hero, had said he would skip Trump's inauguration after allegations of Russian election meddling caused him to doubt Trump "as a legitimate president."
Trump tweeted at the time: "Congressman John Lewis should spend more time on fixing and helping his district, which is in horrible shape and falling apart (not to mention crime infested) rather than falsely complaining about the election results."
It will be Trump's second trip to Atlanta since his disparaging remarks. Last April, he addressed the National Rifle Association's annual convention, which was held in downtown Atlanta a short distance from the football stadium. Lewis spoke at a rally near the convention during Trump's visit, calling for stricter gun control measures.
Lloyd Hawk, a 56-year-old real estate developer and Atlanta native, told the Associated Press he had heard some snarky remarks from some neighbors about the president's impending visit, but he doesn't expect Trump to receive an ungracious welcome.
"We are Southern," Hawk said, "so we'll be polite."
The Associated Press contributed to this report.