Mother, 3 Children Killed in Wyoming Washout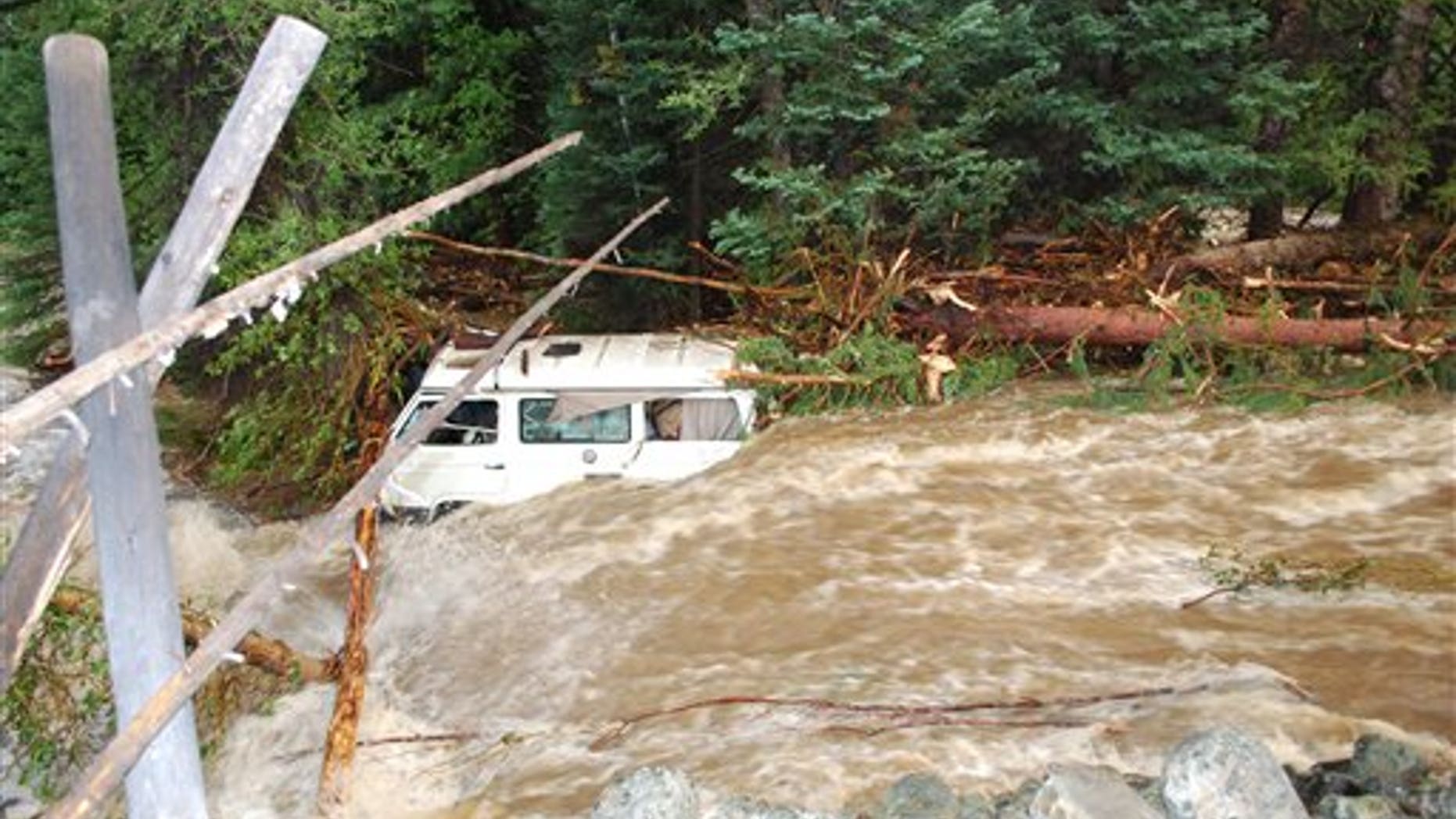 CHEYENNE, Wyo. – Four members of a Colorado family died after their vehicle drove into a washed-out section of a mountain highway in Wyoming and was swept downstream by a raging creek as they fled torrential rains at a national forest campground.
A local emergency management official who was responding to the accident early Tuesday hit the same washout and plunged into the creek before being rescued about two hours later.
"I consider myself very fortunate. I was wondering if I was going to see my family again, to be quite honest with you," John Zeiger, Carbon County emergency management coordinator, said in a telephone interview from his hospital bed.
The Wyoming Highway Patrol said the accident occurred early Tuesday after heavy rain caused flash flooding along a stream that passes under Wyoming 130 about 20 miles from Saratoga in the southern part of the state.
The patrol says two vehicles, including the one driven by Zeiger, went into the 25-foot-wide breach and were swept away.
The Carbon County Sheriff's Office conducted an aerial search of the area Tuesday morning and did not spot any more vehicles or people in the creek, according to county Undersheriff Mike Morris.
The names of the four family members killed were not immediately released, but patrol spokesman Stephen Townsend said they were an adult female and three children from Colorado Springs. He did not have their ages.
Townsend said a fifth member of the family, an adult male, survived and was taken to Carbon County Memorial Hospital in Rawlins. Townsend said he had no immediate word on the man's condition.
Heavy rain began around 7 p.m. Monday and continued until near midnight, prompting authorities to begin clearing out three area campgrounds after midnight, Townsend said.
The family, which was traveling in a van, was among those fleeing the campground, he said.
Townsend said it is not known exactly when the van went into the creek.
Zeiger was traveling alone and responding to the situation and his vehicle plunged into the creek around 1:30 a.m., Townsend said.
Zeiger said he was heading to check out the exact location of the washout, which he thought was farther up the highway.
"I called the sheriff's office and headed that way, and as soon as I turned the corner ... I just didn't see it," he said. "I went down into the Brush Creek myself, and probably rolled once or twice, and it came back up on its wheels, floated on down and got caught up in some trees, so I feel very fortunate."
At one point the water washed over his vehicle, but the water inside got no higher than his waist, Zeiger said, noting the car windows were up and didn't break.
By the time he was rescued by firefighters, the creek had receded about a foot, he said.
Townsend said it is believed that debris in the creek blocked large culverts that run under the highway and the water then tore through the roadway.
A 30-mile section of Wyoming 130 was closed east of the highway's junction with Wyoming 230 south of Saratoga. The Wyoming Transportation Department said repairs to the highway cannot begin until the water recedes.
Several other sections of U.S. Forest Service roads and one agency bridge also were washed away.
Many rivers and creeks in Wyoming already are swollen by heavy mountain runoff from a record snowpack.
Before Monday, flooding this spring and summer has been blamed for at least two deaths and an estimated $4.2 million in damage to public infrastructure and other costs.
The damaged infrastructure includes several major washouts, landslides and partial collapses of roadway around the state.