MORNING BRIEF: Trump meets with top Dems for dinner and talk DACA, border wall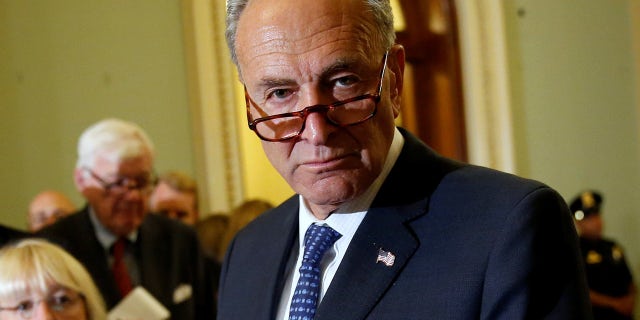 NEWYou can now listen to Fox News articles!
Democratic congressional leaders emerged from a meeting with President Donald Trump Wednesday vowing to pursue an agreement protecting immigrants who were brought illegally into the U.S. as children from deportation.
In a joint statement, Senate Minority Leader Chuck Schumer, D-N.Y., and House Minority Leader Nancy Pelosi, D-Calif., said they and Trump had "agreed to enshrine the protections of DACA into law quickly, and to work out a package of border security, excluding the wall, that's acceptable to both sides."
The White House responded to the border-wall claim.
'HAD NO GAME'
If anyone thought President Donald Trump would remain silent, or let surrogates do the talking for him, regarding Hillary Clinton's new book and her recent public appearances to promote it, they guessed wrong.
On Wednesday evening, the president issued a couple of tweets referring to his opponent in the 2016 presidential race.
GREGG JARRETT: Hillary's got 43 reasons why she didn't win
ANCHOR SPEAKS OUT
ESPN host Jemele Hill took to Twitter on Wednesday evening "to address the elephant in the room," after coming under fire Monday for calling President Donald Trump a "white supremacist."
"My comments on Twitter expressed my personal beliefs. My regret is that my comments and the public way I made them painted ESPN in an unfair light. My respect for the company and my colleagues remains unconditional," Hill tweeted.
MARINE ACCIDENT
A vehicle fire at Camp Pendleton in California left 15 Marines injured — eight of them in the burn unit — following a training exercise accident on Wednesday morning.
A seafaring assault vehicle caught fire during a scheduled battalion training event on a beach at the base, Paul Gainey, spokesman for the Marine 1st Division, said.
COMING UP ON FOX BUSINESS
8 AM ET: Sen. Ted Cruz will be on 'Mornings with Maria'
8:30 AM ET: Carly Fiorina, Former HP and former Presidential Candidate (R) will be on 'Mornings with Maria'